Pot Stocks Tumble in First Hours of Canada's Legal Weed Market
(Bloomberg) -- Canada's Green Day started in the red for stocks looking to benefit from the country's legalization of recreational marijuana. By the end of the day, a few advancers emerged from the downdraft.
Pyxus International Inc. and Green Organic Dutchman Holdings led the gains, both rising 4.2 percent to erase losses from earlier Wednesday. Pyxus, the agricultural company that supports cannabis and tobacco farmers, was named by Citron Research last week as one of the potential beneficiaries of consolidation in the emerging sector, while Green Organic Dutchman fell the past two sessions after ending an investment pact with Aurora Cannabis Inc.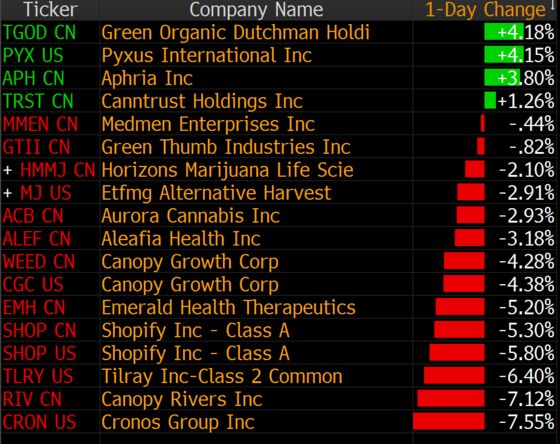 Aphria Inc. gained after Scotiabank said it was the best way to play the pot sector, and CannTrust Holdings Inc. also rose.
Still, most of the sector remained lower as Canadians waited in lines for legal weed, with some complaining about high prices. Cronos Group Inc., Canopy Rivers Inc. and Tilray Inc. all fell more than 6 percent. Shopify Inc., which saw more than 100 transactions per minute on average as a point-of-sale provider for cannabis retailers, also traded lower.
The sector has been on a tear since mid-August on optimism ahead of Canada's move to become the biggest legal market for recreational use of marijuana. The ETFMG Alternative Harvest exchange-traded fund has added 58 percent since hitting its 52-week low on Aug. 14, while the Horizons Marijuana Life Sciences Index ETF surged 67 percent in Toronto.
'Wake 'n Bake,' Plunging Stocks Greet Canada's Legal Pot Debut
Pot Prohibition Ends: Sights and Sounds From Across Canada
Pot Sector Is Real and There's Money to Be Made, Scotiabank Says
It's Green Day in Canada! Here's Your Legal Weed Shopping Guide
Tilray CEO Sees Another Country Legalizing Pot in the Next Year
Biggest U.S. Pot ETF Saw Assets Surge Before Canada Legalization
Here Is How to Trade the Volatile Pot Sector After Legalization
Pot Legalization May Hurt Canada Auto Insurers: Morgan Stanley
Pot 'Poster Child' Eyes March Rollout for Alzheimer's Product
BI: Cannabis Legalization in Canada a New Growth Driver for Shopify