Pot Stocks End 2019 on a Dismal Note as ETF Falls to Record Low
(Bloomberg) -- A gloomy year for pot stocks is ending on a dismal note, with the industry's first exchange-traded fund falling to a record low on Monday.
The Horizons Marijuana Life Sciences ETF slid as much as 4.8% to C$8.20, the lowest since it was launched in April 2017. The fund, known by its ticker HMMJ, has lost 43% this year and is down 65% since its recent high on March 19.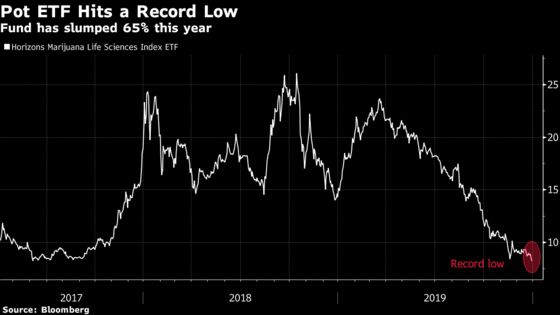 Monday's drop came amid broader weakness in global markets but also illustrates the widespread pessimism that plagued cannabis for most of 2019.
The sector began the year in a buoyant mood after Canada legalized recreational marijuana in October 2018. However, it soon became apparent the industry would underpreform forecasts. Companies spent most of the year coming to terms with lower-than-expected sales, ongoing losses, regulatory issues, a vaping-related health crisis and a slow Canadian retail rollout.
Last week's news that Aurora Cannabis Inc.'s chief corporate officer Cam Battley has stepped down and that Hexo Corp. will offer 15 million shares at a 14% discount only served to deepen that pessimism.
HMMJ only holds Canadian cannabis growers, which have underperformed their U.S. counterparts more recently as legalization spreads at the state level and federal initiatives seek to loosen restrictions. Chicago-based Green Thumb Industries Inc., for example, gained as much as 6.5 % Monday ahead of Illinois' Jan. 1 legalization of recreational pot. The company expects to have five stores open for the first day of sales, it said last week.