Murban Oil Differentials Dip At Year-End on Cusp of IMO 2020
(Bloomberg) -- Spot price differentials for Abu Dhabi's Murban crude are dipping toward the end of the year as the world's top refiners seek out other types of crude ahead of a historic ship-fuel overhaul.
Murban is prized for its light- and middle-distillate yield, but the grade's spot premium has dropped relative to its official selling price in recent days as Asian refiners focus on purchasing oil that produces more low-sulfur, high-viscosity marine fuels due to the impending IMO 2020 rule change. As well, rising supertanker rates are making supplies from closer by in Russia's Far East and the Asia-Pacific more attractive than crude from further away.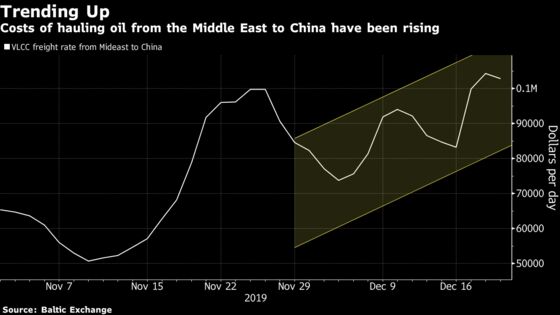 Ships are mandated to use fuels with 0.5% sulfur or less from Jan. 1 and rising demand for IMO-compliant products such as very-low sulfur fuel oil are prompting refiners to bid up crude that can yield more of such output. Grades such as Russia's ESPO have become more favored as a result this month, according to four traders and refiners. The increase in demand for blending into low-sulfur fuel oil is also pushing up prices for Australian heavy grades Van Gogh and Pyrenees.
Murban for February traded at a discount of 15 cents against its official price on Thursday, dropping from a 25-cent premium just days before.
The decline has coincided with an increase in the rates for very-large crude carriers shipping oil from the Middle East to China, which have risen to a two-month high. That's giving additional impetus to demand for nearby crudes such as ESPO, which is trading at a premium of $8 to $8.40 a barrel over benchmark Dubai crude, the highest in about two months.
"The short term volatility we are seeing at the moment is 'business as usual' for a spot market product," Abu Dhabi National Oil Co., the main producer of Murban, said in an email. "In the long term, we see a solid and growing demand for Murban. As a light crude with sulfur content of less than 1%, it is a highly attractive grade based on IMO regulations. In fact, the Murban trading differential is up significantly as a result of IMO regulations, which is a reflection of growing demand."
This month, the popularity of Murban and other similar crude has been eroded as processing profits from gasoil were at an average of $15 a barrel so far in December, about 10% lower than the average for the second half of the year. While Murban at a discount isn't good news for term lifters, buying interest could reemerge should spot differentials fall further or official prices decline.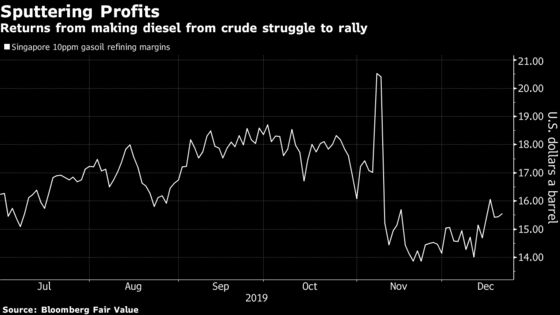 Marine gasoil was previously seen as the biggest beneficiary from the industry's scramble for IMO-compliant fuels, though shippers have so far gravitated to VLSFO due to its high viscosity that aids engine performance. Vessels that ply long-haul routes -- from Europe or America to Asia -- are particularly in favor of this option, according to Abhishek Nambiar, an oil market analyst at FGE.
See also: Momentous Shipping Fuel Shake-Up Playing Out in Unexpected Ways
Low-sulfur diesel as shipping fuel is "losing its status as an IMO golden child," wrote Bank of America Merrill Lynch analysts in a Dec. 13 note. Gasoil crack spreads have averaged $16.70 a barrel so far in the second half of 2019, versus an estimate by Goldman Sachs Group Inc. in August set at $17.60 for the six-month period.