Poor Profit Outlook Not Stopping Asia Stock Buyers: Taking Stock
(Bloomberg) -- Just like the U.S. markets, the rise in Asian stocks this year has been largely driven by valuation expansion instead of earnings growth. And the trend is seen continuing in the face of further central bank easing.
The MSCI Asia Pacific Index has continued to see earnings downgrades, with a 6% cut to estimates this year so far, following negative revisions in 2018, according to data compiled by Bloomberg. Yet the benchmark is up 7%.
It seems the best efforts of government and central bank stimulus, including from the Federal Reserve, have failed to lift the profit outlook for the region. More evidence: September-quarter earnings of stocks in the Asian gauge are estimated to drop by 10% year-on-year, Bloomberg-compiled data show.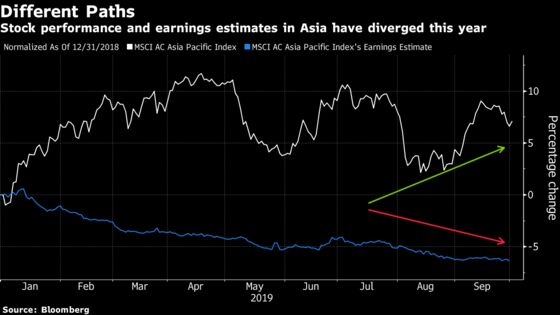 Corporates in Korea and Japan are poised to be among the biggest contributors to the earnings decline, with third-quarter profit estimates for the MSCI Korea Index and MSCI Japan Index down about 30% and 8%, respectively.
Apart from the earnings conundrum, traders will also have to navigate U.S.-China trade talks scheduled next week, China's inflation and economic growth data that come out mid-month and the Federal Reserve's rate decision on Oct. 31.
The divergence may continue for a while "unless earning take a bigger hit or confidence in an eventual rebound falls," said Shane Oliver, head of investment strategy and chief economist at AMP Capital Investors Ltd. "Lower interest rates and bond yields and the hope of stronger earnings eventually are supporting markets."
MSCI Asia Pacific Index ex-Japan up 0.2%
MSCI Asia Pacific Index up 0.5%
Japan's Topix index up 1%; Nikkei 225 up 0.8%
Taiwan's Taiex index up 1%
South Korea's Kospi index up 0.5%; Kospi 200 up 0.4%
Australia's S&P/ASX 200 up 0.2%; New Zealand's S&P/NZX 50 up 0.5%
India's S&P BSE Sensex Index up 0.5%; NSE Nifty 50 up 0.5%
Singapore's Straits Times Index up 1.1%; Malaysia's KLCI little changed; Philippine Stock Exchange Index down 0.6%; Jakarta Composite little changed; Thailand's SET down 0.1%; Vietnam's VN Index little changed
S&P 500 e-mini futures up 0.4% after index closed up 0.5% in last session