Political Chaos to Push Foreigners Further Away From Thai Stocks
(Bloomberg) -- Just as some investors began getting optimistic that Thailand's plan to reopen its borders would stem foreign outflows and help arrest a slump in domestic stocks, political concerns have erupted once again.
Global funds may reduce holdings of local stocks further, market watchers say, after Prime Minister Prayuth Chan-Ocha declared a state of emergency in Bangkok to quell escalating demonstrations in support of monarchy reform and greater democracy. Foreigners have already pulled a net $9.12 billion from domestic equities in 2020, set to exceed a record annual outflow in 2018.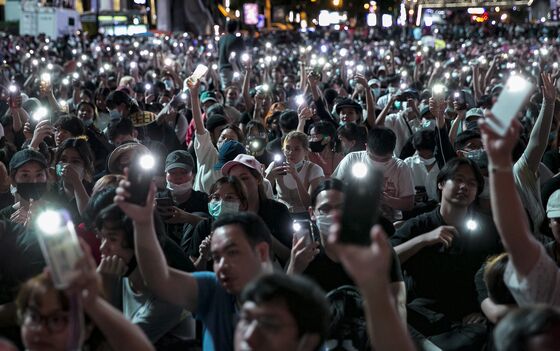 "Thai equities will remain unloved by overseas investors," said Prapas Tonpibulsak, chief investment officer at Talis Asset Management Co. "This latest development will probably confirm their concerns about Thailand's political risk."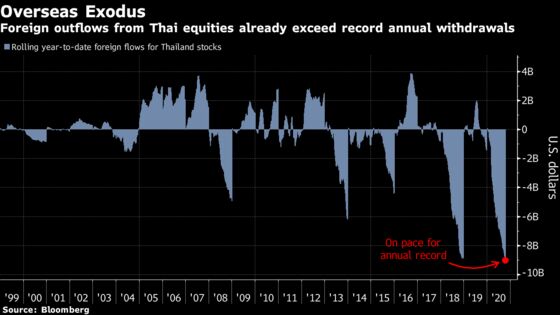 Political unrest in Thailand has grown as the novel coronavirus pandemic derailed tourism and trade, two of the main drivers for Southeast Asia's second-biggest economy, putting it on course for its worst annual performance ever. The declaration of emergency came after tens of thousands of protesters on Wednesday broke through police barriers in a march to Government House, Prayuth's office, in an escalation of demonstrations that began in July.
The benchmark SET Index added 0.1% Friday, trimming its weekly loss to 1.8%. The gauge has slumped about 21% this year, the most in Asia after Singapore and the Philippines, while the baht is the region's second-biggest loser in 2020. The currency strengthened 0.1% to 31.189 against the U.S. dollar early Friday.
"In the near term, we think the baht will likely underperform its regional peers, given the ongoing protests" said Irene Cheung, a Singapore-based foreign exchange strategist at Australia & New Zealand Banking Group Ltd.
Tourism-reliant Thailand recently unveiled plans to open its borders to small groups of foreigners. An absence of overseas visitors, whose spending accounted for about a fifth of gross domestic product last year, has weighed on growth, eroding the allure of domestic equities.
Still, the drop in shares following the emergency declaration is probably a "buying opportunity," said Nirgunan Tiruchelvam, head of consumer equity research at Tellimer. The stock market may "rally sharply in the medium term," with the return of tourism, said Dubai-based Tiruchelvam.
The benchmark stock index trades at about 17 times its 12-month estimate earnings, compared with a five-year average of 15.1, according to data compiled by Bloomberg.
"Thai companies have a very grim earnings outlook that won't attract foreigners to their stocks," said Komsorn Prakobphol, a senior investment strategist at Tisco Financial Group Pcl in Bangkok. "The political environment will add to the downside risk."