Platinum's Surplus to Persist in 2019 Despite Demand Growth
(Bloomberg) -- Platinum will remain in surplus in 2019, albeit a smaller one than this year, as the industry continues to grapple with declining demand from the automotive sector, the World Platinum Investment Council said in its quarterly report.
The group forecasts next year's surplus at 455,000 ounces, down from 505,000 ounces in 2018. It sees demand rising about 2 percent, driven by industrial usage and investment demand.
Platinum, mostly used in auto-catalysts for diesel engines, has fallen out of favor as the vehicles lose market share to gasoline-powered cars. Makers of petroleum vehicles may be motivated to switch to platinum from palladium as the price difference between the two precious metals has increased. But that prospect isn't likely to affect demand for next year because new catalyst formulations take time to be certified and reach the production line, WPIC says.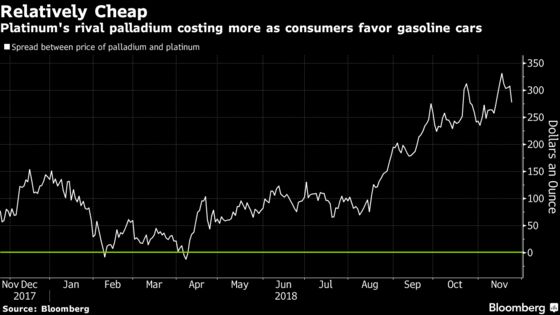 The industrial sector has been the main supporting factor for platinum this year, specifically petroleum refining and glass manufacturing. Demand will continue to rise as refining capacity in places including China and North America increase and with the chemical sector also forecast to boost loadings.
Investment demand is seen doubling to 250,000 ounces next year, driven by an expected increase in holdings for platinum-backed exchange-traded funds. Investors may take the view that the surplus has bottomed out and seek to add exposure while it remains cheap relative to gold and palladium.
Supply is set to remain stable, with WPIC expecting similar levels of operational disruptions at mines next year as in 2018.
For a full breakdown of WPIC's numbers for 3Q and the 2019 outlook, click here.