Platinum Giants Seek Mediation After Union Declares Dispute
(Bloomberg) -- Anglo American Platinum Ltd. and Sibanye Gold Ltd. will seek mediation to break the deadlock in wage negotiations with South Africa's largest platinum-mining labor union.
The producers said they will try to resolve the standoff internally, rather than apply to the nation's Commission for Conciliation, Mediation and Arbitration. The Association of Mineworkers and Construction Union, which started pay talks in June, has declared a dispute with the two miners, union President Joseph Mathunjwa said by phone on Tuesday.
AMCU has rejected counteroffers from the companies, which said the union's initial demand for a 48% wage increase would lead to job losses and mine closures. While workers want to share the profits being generated by higher palladium and rhodium prices, the miners say the metals markets shouldn't set a benchmark for a pay deal.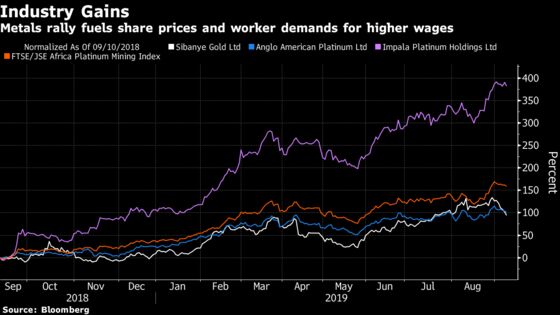 "AMCU declared a dispute, which is normal during wage negotiations," Amplats spokeswoman Jana Marais said by email. "The matter is being dealt with through internal dispute resolution mechanisms."
AMCU's Mathunjwa last month said Sibanye's offer was lower than other producers and accused the company of trying to provoke a strike. In 2014, the union led the longest-ever platinum strike in the country, costing the industry about $2 billion in revenue. Two years later, it accepted a 12.5% raise for the lowest-paid workers, after initially demanding 47%.
Read More: Sibanye Says Far Apart From Union in Platinum Wage Talks
Declaring a dispute doesn't mean a deal is dead, Sibanye spokesman James Wellsted said.
"AMCU has declared a dispute, but we continue to engage with them and the other unions and hope to reach a mutual agreement that is fair but sustainable," he said.
Enlisting an external mediator to unlock the dispute could indicate that both sides may be willing to avoid a strike, said labor consultant Albert De Beer.
Talks between AMCU and Impala Platinum Holdings Ltd. are progressing well and a deal there could be reached later this month, Implats Chief Executive Officer Nico Muller said last week. The company plans to seal a deal without any labor disruption, he said.
Sibanye is at greater risk of a strike due to its fraught relations with AMCU and concerns over the impact of higher wages on the Marikana mines it operates following its purchase of Lonmin, RMB Morgan Stanley analysts, including Christopher Nicholson, said in a note.
"Sibanye's operations appear relatively highly exposed to potential labor disruption arising from the current wage negotiations, given their stance on the affordability of increases at Lonmin Marikana," the analysts said.
Sibanye CEO Neal Froneman last month said the company has developed comprehensive plans to withstand a strike, even a prolonged one.