Pimco Total Return Risks First Losing Year Since Gross's Ouster
(Bloomberg) -- The Pimco Total Return Fund could be headed for its first annual loss since 2013 as the bond firm's former flagship lags behind competitors four years after the ouster of longtime manager Bill Gross.
Hurt by rising interest rates and emerging-market bets, the $70 billion fund fell 1.62 percent this year through September, ranking in the bottom 30 percent of its peers, according to data compiled by Bloomberg. It also narrowly trails the Bloomberg Barclays U.S. Aggregate index, which has declined 1.6 percent this year.
"It is hard to recapture investor interest when you are underperforming," Todd Rosenbluth, director of ETF research at CFRA Research, said in an interview.
Total Return's last negative year was 2013, when it lost about 1.9 percent. Since its 1987 inception, the only year it had a bigger decline was 1994, when it fell 3.6 percent as interest rates soared.
This year, Total Return is among a pack of big, actively managed fixed-income funds that are also in the red. They include the $113 billion Pimco Income, $73 billion Metropolitan West Total Return Bond and $57 billion Dodge & Cox Income funds. One distinction the three share: They're still beating the benchmark.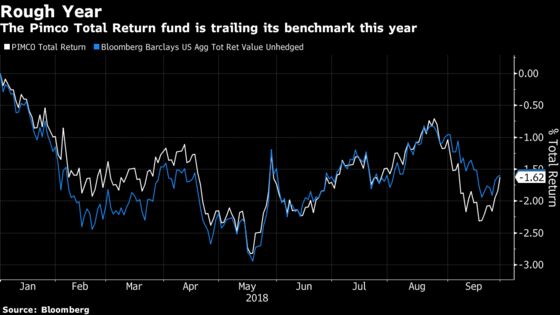 Pimco Total Return, once the world's largest mutual fund, built its reputation on the system Gross and Pacific Investment Management Co. devised for navigating economic and market cycles.
On Sept. 26, Scott Mather, Mark Kiesel and Mihir Worah marked the fourth anniversary since taking over from Gross, whose exit spurred a flood of outflows from the Newport Beach, California-based firm.
The fund's withdrawals totaled about $3 billion this year through August, according to Bloomberg estimates, and assets are down about 76 percent from their April 2013 peak of $293 billion.
"In the short term, challenges in the broader bond market have weighed on performance, but over the longer-term horizon Total Return has been adept at navigating rising rates," Pimco spokesman Michael Reid said in an email. Mather, Kiesel and Worah declined to comment.
Indeed, the team has managed to post an annualized 2 percent return during their tenure, compared with 1.7 percent for the benchmark. And they've beaten two-thirds of Bloomberg peers over the last three years.
Recent losses, however, have been caused by positions in mortgage-backed securities and emerging-market currencies, according to Reid. But Pimco sees a growing opportunity in such currencies after prices fell in August, Kiesel said in a Sept. 18 Bloomberg Television interview.
"We want to start to dip our toe into emerging markets, recognizing the valuations are quite compelling," Kiesel said. "We actually think within all emerging markets, FX is probably the cheapest" as the market that has corrected the most, he said.
Total Return's duration, a measure of sensitivity to rising rates, was 4.43 years at the end of August, compared with 6 years for the benchmark, which helped its performance since rates began rising in July 2016, according to Reid. But as rates climbed further in September, Total Return's losses widened.
Yet investors pining for Gross may want to avoid his Janus Henderson Global Unconstrained Bond Fund. The $1.15 billion go-anywhere fund is down 6 percent this year through September.