Pimco Earns Millions Keeping Broadcaster on Brink of Bankruptcy
(Bloomberg) -- Pacific Investment Management Co. is making millions off a struggling Spanish-language broadcaster that defaulted more than a year ago by not forcing it into bankruptcy -- much to the chagrin of the company's preferred shareholders.
Spanish Broadcasting System Inc. has paid about $43 million in interest to creditors, including about $20 million to Pimco, since SBS failed to repay $260 million of bonds that matured in April 2017. The monthly payments -- which add up to at least 12.5 percent a year -- could keep going indefinitely.
That's why SBS's preferred shareowners sued. They contend the language in their securities prevents SBS from overhauling its debts or incurring new ones without their consent, or until they're paid, according to a claim filed in a Delaware court. The shareholders, whose pay-in-kind securities promised 10.75 percent annually, are demanding about $170 million of principal and dividends. The court agreed they have a claim but said the preferreds aren't entitled to an order to repurchase the shares, according to an opinion released Aug. 27.
The disputes threaten the existence of the company founded in 1983 by Chief Executive Officer Raul Alarcon Jr.'s father, a music-loving Cuban immigrant. It owns 17 radio stations in the biggest Spanish-speaking U.S. cities, as well as a TV operation in Florida, and it produces live events. Alarcon Jr. took over as CEO in 1994 and holds stock that controls 85 percent of the votes.
"I can't think of another situation like this," Minor Myers, a professor at Brooklyn Law School who specializes in corporate finance, said by phone. "Noteholders have the company by the throat. It looks like he's paying them not to push the company over the edge."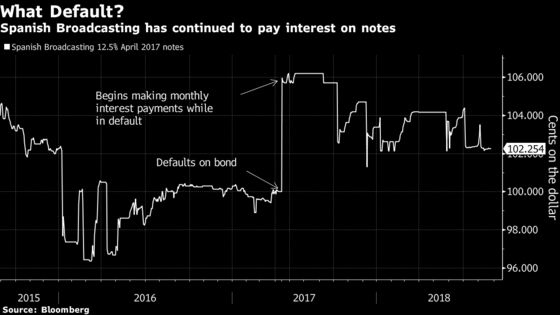 Richard Lara, the company's general counsel, said via email that SBS was pleased with the court's decision. Pimco spokeswoman Laura Batty declined to comment. The preferred shareholders and their advisers either declined to comment or didn't respond.
Typically, companies in default will work out a forbearance deal in which creditors agree to forgo payments while a restructuring is crafted. SBS signed one of those on May 8, 2017, with the Miami-based firm agreeing to pay $2.86 million a month in interest, plus additional fees and payments to Pimco and other creditors. The agreement expired at the end of May 2017, but the company continued to pay interest, according to its quarterly report.
The company has been working with advisers to restructure or recapitalize its balance sheet, including the issuance of new debt or equity to repay the notes, according to its Aug. 16 earnings call, but there's no timeline, Chief Financial Officer Joseph Garcia told investors. If those attempts fail, it could be forced to file for bankruptcy, according to company filings.
The preferred shareholders hired Morris, Nichols, Arsht & Tunnell and Kirkland & Ellis as legal counsel, according to court filings. They're working with FTI Consulting Inc. as a financial adviser, according to a person with knowledge of the matter, who asked not to be identified discussing confidential matters.
SBS filed a motion to dismiss the preferred shareholders' claim partially on the grounds it is invalid because it appears to show that the majority of its preferred shares are owned by non-U.S. entities, which violates rules that foreign ownership of outstanding shares cannot be above 25 percent.
Chancellor Andre Bouchard on Aug. 27 ruled the preferred holders could be entitled to some relief, and gave the two sides five business days to come up with a solution.
Radio traditionally delivered decent earnings for SBS but the high interest cost on the debt eats most of the cash in the business, said Jawad Hussain at S&P Global Ratings. S&P had SBS graded CCC- but pulled the rating after the default. Leverage was above 10 times debt to a key measure of earnings at the time, Hussain said.
"Historically radio is a pretty good cash-flow business," he said. "But you're never going to be able to grow your way out of it, you have to manage it."
Regardless of the outcome, Pimco looks likely to come out on top. The asset manager owns 46 percent of the first-lien bonds, giving it plenty of muscle to tip SBS into bankruptcy if the cash stops coming. In July, the broadcaster sold its New York real estate for $14 million to redeem some of the notes.
Trading suggests the debtholders aren't worried about their recovery, with the bonds at around 102 cents on the dollar. Quotes on the preferreds aren't readily available, and common shares trade for about 24 cents.
A bankruptcy would have a significant impact on Alarcon Jr. His 2017 compensation was nearly $2 million and came with a car allowance and driver, telecommunication services, and SBS paying for staff on his private yacht when he uses it for business purposes, according to the proxy filing.
In a bankruptcy, "the noteholders could become the owners because they're first lien," Myers said. "An advantage of dragging it out is that his life stays the same for longer."