State Street Says EM Bond Investors Should Prefer Cash
(Bloomberg) -- Tumbling stock markets from China to Greece mean piling into cash may be the best bet for emerging-market investors as a volatile 2018 draws to a close.
That's according to Dwyfor Evans, head of Asia-Pacific macro strategy at State Street Global Markets in Hong Kong, who says that developing-nation bond funds should switch to cash as a sell-off widens.
"Investors have probably taken profit on the very, very easy money-making opportunities that arose in 2017," Evans said. "When markets get tough, when markets get a bit more risk averse, it's logical to see that investors will actually allocate a higher proportion of their underlying assets to cash."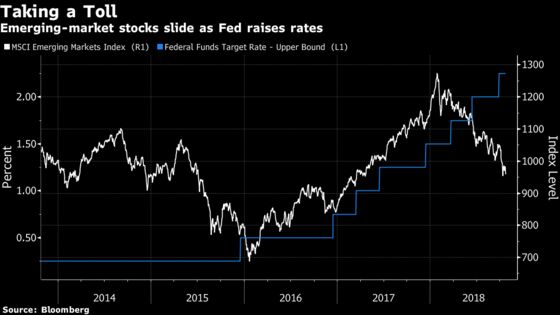 China's benchmark Shanghai Composite Index has slumped 21 percent this year, Greece's benchmark has tumbled 23 percent, while the MSCI All-Country World Index of stocks slid to the lowest in more than a year on Tuesday. Sentiment is being punished by higher U.S. interest rates, a U.S.-China trade war and Italy's budget dispute, among other factors.
CLSA Ltd. also says its time to get more defensive. The company's New York-based strategist Matthew Sigel said he has sold all his European equity holdings due to concern about rising support for populist politicians and beefed up his cash position.
"Cash now offers positive real yields in the U.S. for the first time in years, which, should the nascent trend continue, correspond with significant equity multiple contraction," he wrote in a company newsletter obtained by Bloomberg.