Picton Hedge Fund Shorts Junk Debt as Yields Pinch Safety Margin
(Bloomberg) -- Hedge fund manager Picton Mahoney Asset Management is shorting U.S. junk bonds as part of a defensive fixed-income strategy after historically low yields have left investors with few safeguards.
U.S. junk-rated bond sales have swelled to record levels so far this year as companies lock in lower borrowing costs amid falling yields, which last month dipped below 4% for the first time ever. Despite the recent increase in government bond yields, financing costs for firms rated high yield remain at historically low levels.
"The idea of lending money to a company at 4% for 10 years doesn't make sense in high yield, so we've been net shorting new issues," said Phil Mesman, partner and head of fixed income at the Toronto-based fund. "We also have put options on the high-yield market as well."
Picton is also shorting the government bond curve particularly on the long end, Mesman said in an interview Friday, adding that "the biggest risk right now in fixed income is a lack of margin of safety."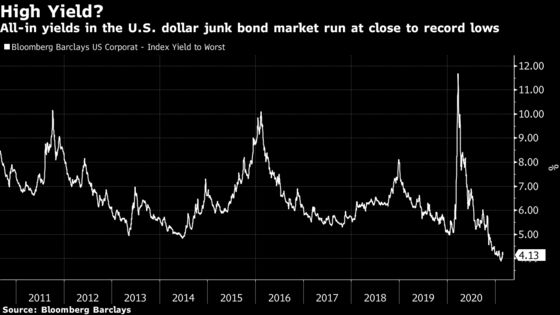 On the other hand, the extraordinarily low yields make corporate bonds "extremely susceptible" to events such as mergers and acquisitions "which is creating a lot of interesting opportunities," said Mesman.
Pioneer Natural Resources Company's acquisition of Parsley Energy Inc. announced in October is a recent example. Pioneer Natural identified savings in the merger, so Picton bought Parsley's 2027 and 2028 bonds on the news with a takeout thesis that materialized in January.With running coupons of 5.625% and 4.125%, respectively, and 2% to 3% capital gains between the purchase and tender prices, the investment added approximately 15 basis points to Picton's portfolios in a 1.5 month period, said Mesman.
"I'd argue event-driven credit investing represents some of the best opportunity in all capital markets," said Mesman.