Pictet's Asia Wealth Ambition Suffers Blow as a Dozen Depart
(Bloomberg) -- Banque Pictet & Cie SA has lost about a dozen Asia wealth management employees this year, underscoring the challenges for the Swiss firm as it seeks to become a top 10 private bank in the region.
The departures include longtime employees and relative newcomers, people familiar with the matter said. Among the more senior employees leaving are Nicolas Staerkle, a more than two-decade veteran of the firm, as well as Xuan-Lam Nguyen Tang, who joined in 2005, the people said, asking for anonymity because they weren't authorized to speak.
Their exit, in a market where wealth managers are in high demand, shows the difficult balancing act for Pictet between seeking to boost growth while preserving a unique culture that has developed over more than 200 years. The Swiss firm has hired aggressively and introduced targets to measure the performance of its bankers, aiming to lift profitability as margins shrink and competition for rich clients heats up.
"Attrition at our wealth management business in Asia remains well below industry average and has declined for the past three years," said a spokesperson for the firm. "While we continue to add staff, there have been a small number of voluntary and involuntary departures, including some due to changes in life planning as a result of the pandemic, but nothing out of the ordinary."
Pictet's wealth management unit in Asia has increased the number of employees by about half over the last three years, with relationship managers increasing 40%. As of 2020, the business employed about 70 relationship managers in the region, according to Asian Private Banker, an industry publication. Assets under management have risen more than 40% over the past three years, and so far this year, Pictet has seen new money in Asia more than double from a year earlier, a person familiar said.
Still, some of the long-tenured wealth unit employees who have left in Asia clashed with efforts to measure bankers by metrics such as net new money and the return on assets, the people said. The bank embarked on those changes in 2014 to turn its wealth operations into a more commercially-driven enterprise as it seeks to expand outside of Switzerland.
To turbo-charge the transition, Pictet in 2018 hired ex-Julius Baer CEO Boris Collardi as co-head of its wealth business. Collardi shuffled the bank's leadership in Asia, appointing Tee Fong Seng, a banker who like Collardi had worked at Credit Suisse Group AG before, as head of the wealth arm's Asia division. He also hired Alex Ng from Credit Suisse, who brought a number of colleagues with Greater China expertise to Pictet.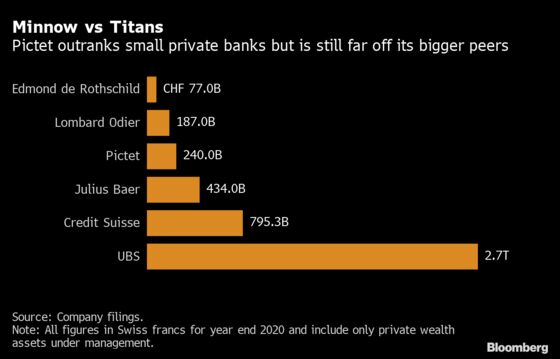 Staerkle, a relationship manager in Hong Kong, will be replaced as market group head by Christopher Todd Burgess, a senior leader who has been with the bank for eight years, said one of the people.
Some of the more recent hires who've left were originally recruited from Julius Baer to Pictet by Collardi. They include Pamela Hsu Phua, who went to rival boutique VP Bank along with Heline Lam.
Others include senior bankers Paul Yu and Genji Hosono, as well as David Kilmer, a senior investment specialist, according to LinkedIn. David Gaud, chief investment officer for Asia and head of the discretionary portfolio management based in Singapore, is also leaving.
Some newcomers were frustrated by Pictet's reluctance to provide leverage to clients or offer complex investments such as structured products, which are popular in Asia, the people said. Collardi had lobbied hard for Pictet to issue its own structured products, but the firm instead decided to sell other banks' offerings.