Picking Stocks While Shunning ETFs Is the New Thing in Equities
(Bloomberg) -- It's too early to call a trend, but data on money flows from one bank are flashing an encouraging signal for active investing in 2019.
Less than a month into 2019, clients from Bank of America have shown a distinct preference for picking stocks over wagering on the broad market or specific sectors. For three weeks in a row, they snapped up shares of individual companies and dumped exchange-traded funds. As a result, purchases of single stocks have exceeded $8 billion this year while ETFs suffered almost $2 billion of outflows.
If sustained, it would mark a break from the past decade, when passive funds such as ETFs soared in popularity at the expense of active investing. During the past 11 years, Bank of America clients alone bought almost $210 billion of ETFs while selling $265 billion of single stocks.
The stage is set for a reversal as equity valuations are more spread out than any time since 2009, a rare opportunity for stock pickers, according to the firm's strategists including Jill Carey Hall and Savita Subramanian.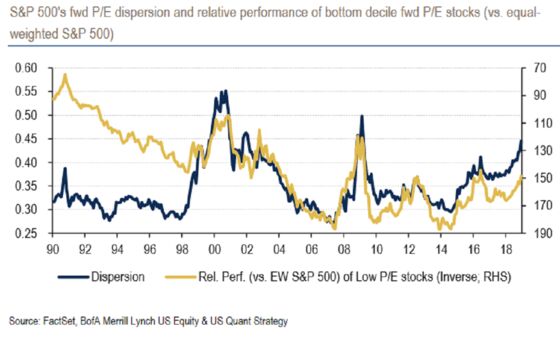 "Stock-picking has begun to matter more than sector allocation, after the reverse was true for most of this cycle," the strategists wrote in a note Tuesday.
For years, investors flocked to ETFs like the SPDR S&P 500 ETF Trust, riding a rally that's produced an annualized return of 17 percent since 2009. With the bull market becoming the longest in history and recession fears mounting, making undifferentiated bets with abandon is increasingly seen by many as risky.
Among BofA's clients, the inclination toward stock picking is most pronounced among retail investors. The group has scooped up almost $4 billion of single shares this year while exiting ETFs.
"January is typically the most positive month for equity inflows, but this is so far the first January in five years where flows have been entirely single-stock driven," the BofA strategists wrote.