The Philippine Stock Market Is Just 154 Points From a Bull Run
(Bloomberg) -- The Philippine stock market flirted with a bull market run Wednesday, before ending the day lower. Still, the benchmark has recovered a remarkable 18 percent in just three months -- and investors say positive earnings results will further spur gains.
The Philippine Stock Exchange Index climbed as much as 1.8 percent in Manila, before it fizzled, dipping below the 8,212.59 level and closing the day 0.1 percent lower at 8,058.45. The surge since a two-year low in November has been on optimism that slowing inflation will boost earnings and support valuations. That's encouraged foreign investors to return, as they poured more than $413 million into the nation's equity funds this year.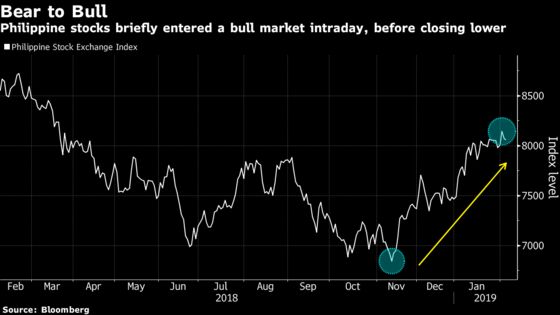 "While sentiments are very bullish because of better-than-expected economic data, investors should partially sell on rallies and buy on dips," said Wendy Estacio, an analyst at Unicapital Securities Inc. "As the U.S. and China near the deadline to reach a trade agreement, expect some dips but the market will be resilient if corporate earnings point to double-digit expansion."
The index swung to a loss late in the day as some components, including SM Investments Corp. and JG Summit Holdings Inc., surrendered gains at the close of trading.
Read: Philippine Stock Index Unlikely to Breach 2018 Peak, COL Says
Even so, the rebound is striking for a market that was among the world's biggest losers for part of last year. The nation's benchmark gauge is up 7.9 percent since the start of 2019.
The Philippine equity market has regained about $22 billion in value this year after more than $31 billion evaporated in 2018, when escalating inflation fueled one of the most aggressive policy-rate tightening in Asia and weakness in the peso. Overseas investors withdrew almost $1.1 billion from the nation's stocks in 2018, with the U.S.-China trade war adding to weak sentiment.
The Philippine benchmark now trades at 16.6 times estimated earnings in the next year, up from a low of 14.4 in November. While that's one of the highest multiples among Asian gauges, investors are betting earnings growth will accelerate in 2019 as inflation cools.
Here are the major Asian equity indexes still in bear territory:
MSCI Asia Pacific Index, MSCI Asean Index
China's Shanghai Composite Index, Hong Kong's Hang Seng Index
Japan's Topix, Nikkei 225 Stock Average
South Korea's Kospi index
Vietnam's VN Index