Bear Market Looms for Philippine Stocks on Worst Week Since 2011
(Bloomberg) -- Philippine stocks, among the world's worst performers this year, are coming close to entering bear territory.
Fears over the impact of the coronavirus sent the Philippine Stock Exchange Index down 2.6% to 6,787.91. The 7.9% plunge this week, its worst since September 2011, has taken the market down 19% from a high reached in July. Friday's sell-off coincided with the last day of MSCI re-balancing, and that may have prompted last-minute orders from some passive funds to reflect those changes.
While the Philippines has seen only three infections so far, the novel virus is affecting companies all over the world, sending stocks slumping. Global equities have lost more than $5 trillion of value in the past seven days, while the S&P 500 Index -- which hit a record high just last week -- lost 12% in just six days.
"For a small market like us, the theme is to track other markets," said Justin Lawrence Tembrevilla, head of research at Unicapital Securities Inc. "The psychological support is at 6,800 -- if that breaks, we could fall into a bear market."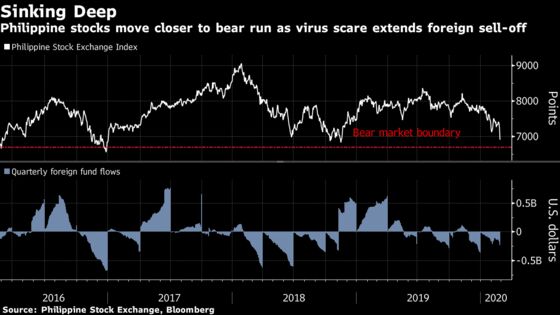 The Philippine gauge has lost 13% this year, with almost of of its 30 components down and about half of them falling more than 15%. The slide has wiped out more than $30 billion of market value since the start of 2020, with overseas funds pulling out a net $263 million. The sell-off has taken the index's valuation down to about 13 times estimated earnings for the next year, the lowest since January 2012, data compiled by Bloomberg show.
After Philippine stocks got battered at end of 2019 by President Rodrigo Duterte's verbal attacks on some of the nation's biggest business groups, investors including BDO Unibank Inc. and First Metro Investment came into 2020 with a positive outlook, forecasting a double-digit gain for the benchmark equity index this year on accelerating economic and earnings growth.
"I'd like to be optimistic that as more companies report good earnings, this could soften the impact of the sell-off," Unicapital's Tembrevilla said. "This is a knee-jerk reaction to the coronavirus proliferation. I'd rely on corporate and economic data."