Philippine Stock Exchange Cancels Trading Amid System Glitch
(Bloomberg) -- The Philippine Stock Exchange canceled trading on Tuesday following a system glitch, according to exchange president Ramon Monzon.
"We are sorry about this unfortunate incident and we are exerting all efforts to resolve the problem," Monzon said in a statement. The bourse had to suspend trading after 43 brokers were unable to connect to its system, Monzon said earlier in a text message to Bloomberg News. It was not clear when trading would resume.
Under exchange protocol, if a third or more of its brokers are unable to connect, trading has to be halted, he added. The bourse's trading platform and front-end system providers are "troubleshooting their respective systems to pinpoint the problem and devise a solution."
"This is negative for market sentiment, but this hiccup happens even in advanced markets," says Astro del Castillo, managing director at First Grade Finance. "Market sentiment should recover once trading resumes."
The bourse notified brokers at 9:10 a.m. local time that the pre-open phase of trading was delayed, without specifying a cause. The exchange did not issue an advisory when trading did not open at 9:30 a.m. as normally scheduled.
Absent any comment from the exchange, the delay caused anxiety to many investors and market participants who were left guessing what happened, said Jonathan Ravelas, chief market strategist at BDO Unibank Inc. Monzon's statement "has cleared the problem and lessened market anxiety."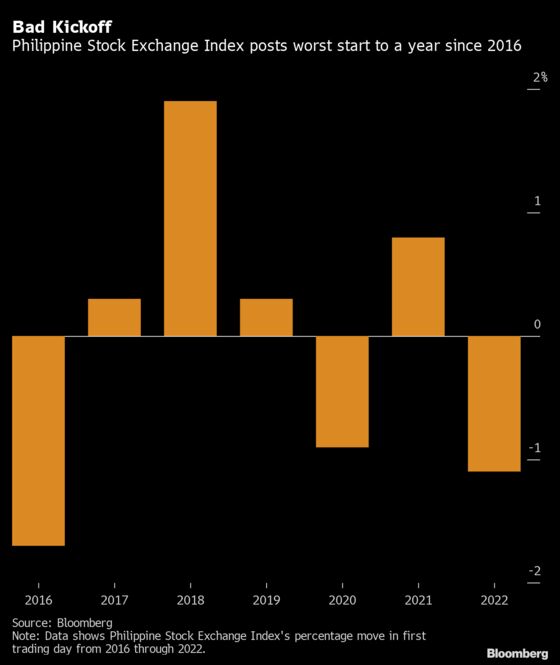 The Philippine Stock Exchange Index sank 1.1% to 7,041.27 on Monday, its worst start to a year since 2016 as the nation's capital region returned to stricter mobility curbs to contain re-surging Covid-19 infections.