Philippine Stock Exchange Gets SEC Approval for Short Selling
(Bloomberg) -- The Philippine Stock Exchange has secured approval from regulators to introduce short selling, giving investors a tool to hedge risk or boost profit.
"We are optimistic that this facility will lend support to our securities borrowing and lending program and help improve liquidity in our market," the bourse's President and CEO Ramon Monzon said in an emailed statement after the Securities and Exchange Commission gave it the go-ahead.
Short-selling is the practice of wagering against securities by selling borrowed assets to bet on a decline, hoping to buy them back later and pocket the price difference.
The SEC approval comes at a time when local stocks are under pressure from an exodus of foreign funds and concerns about the nation's accelerating inflation and peso depreciation against the dollar. The Philippine Stock Exchange Index closed 0.5 percent lower at 7,063.20 on Friday, the seventh straight day of declines. On June 21, the index breached 7,246.90 level that marked a bear market.
The guidelines for short-selling transactions include:
Only members of the PSE Index and exchange-traded funds are eligible for short selling
For any eligible security, only 10 percent of its outstanding shares can be shorted

The limit acts as a safeguard for the orderly conduct of short selling

Trading participants must ensure that the client has entered into the necessary securities borrowing arrangements before entering a short-selling order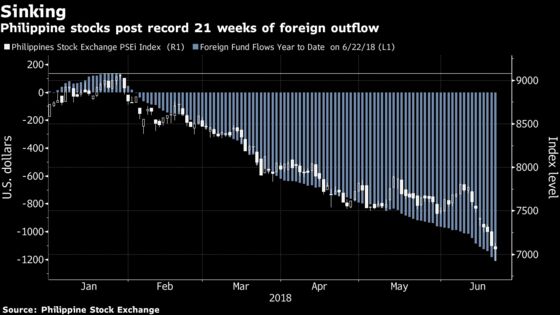 "Even with a limited number of eligible securities and a cap on short interest to begin with, we believe that the ability to take short positions will further spur trading activity and attract more investors to our market," Monzon said.