Emerging-Market Currency Bulls Hit Snag as Policy Risks Pile Up
(Bloomberg) -- A burgeoning comeback in emerging-market currencies is encountering policy-related hurdles, with central banks in Asia and Turkey facing pressure to cut rates while its peers tighten to combat rising inflation. 
The Philippine peso and Thai baht led declines in the developing world on Thursday as the spread of the delta strain fueled speculation for monetary easing. In Turkey, the lira extended its worst three-day slide since June, after President Recep Tayyip Erdogan's latest call for lower interest rates. 
These declines have yet to derail the MSCI Inc. index of developing-nation currencies, which climbed to a one-month high this week, paring two months of losses. But that progress could be threatened as calls for policy easing ring louder in some corners of emerging markets, widening their gap from the Federal Reserve, which is expected to raise rates in 2023.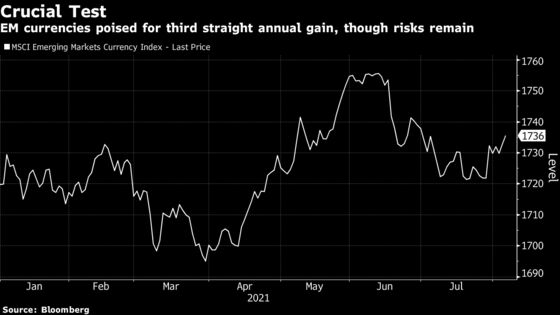 "The direction of monetary policy globally has been shifting toward tapering or tightening, so both the baht and peso look at a disadvantage from the perspective of interest-rate differentials," said Kota Hirayama, a Tokyo-based emerging-market economist at SMBC Nikko Securities Inc.
On Wednesday, the Bangko Sentral ng Pilipinas said a reserve-ratio cut is on the cards just as the Manila capital is set to enter a lockdown. Meantime, the Bank of Thailand cut its growth forecast for the year to 0.7%.
Interest-rate cuts could add to the burden for both the peso and baht, which have been hit by slowing growth and the prospect of a reduction in U.S. monetary stimulus. Both currencies have declined more than 2% this quarter, the worst performance among Asian currencies.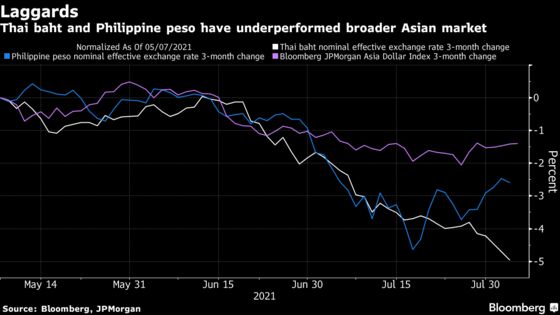 In Turkey, the lira's tumble has also been driven by concerns over central bank policy after Erdogan repeated his unorthodox mantra that lower borrowing costs help slow the pace of price gains and stimulate the economy. 
Tatha Ghose, a senior emerging-market economist at Commerzbank AG in London, said the lira has further room to fall, warning of a potential slide to 10.0 per dollar by the end of 2021.
Turkish inflation, which has spiked to a two-year high, is also stoking investor jitters. And while the International Monetary Fund is forecasting strong growth in the country this year, the Washington-based lender has warned that the economy is prone to shocks.
In parts of Southeast Asia, the prospect of economic expansion looks grimmer.
Thailand could be headed for a second straight annual contraction as movement restrictions and political unrest have hit the tourism-reliant country disproportionately hard. The Philippine economy has been one of the slowest to recover in Asia, shrinking more than expected in the first quarter of the year as it struggled to contain the virus outbreak.
"There are restrictions in place most of August and on top of that worries about how China is responding to Covid and uncertainty about the policy response," said Trinh Nguyen, a senior economist at Natixis in Hong Kong. "For now, given the low vaccination rate and reliance on suppression, I believe the under performance of this region will last if they continue the same strategy."