Philippine, Indonesian Equities Shine as Rate Hikes Cheer Bulls
(Bloomberg) -- Stocks in Indonesia and the Philippines rose to become Asia's best performers Friday on optimism interest-rate hikes by both nations' central banks would help steady currencies, curb inflation and lure back overseas investors.
The Jakarta Composite Index climbed 1 percent to close at 6,012.35, while the Philippine Composite Index gained 1.9 percent to 7,083.34 following Thursday's surprise increase by Bank Indonesia and a move by its Philippine counterpart to raise rates for a fifth straight meeting. The rupiah rose 0.4 percent Friday and the peso strengthened, gaining for a sixth week.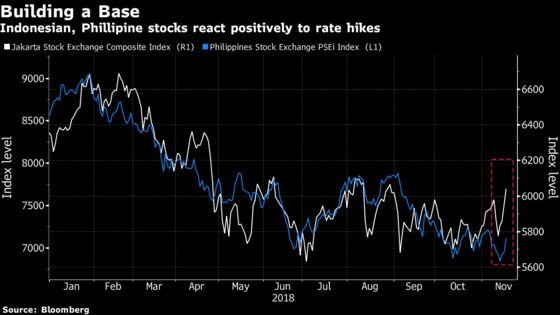 "I sense a shift taking place that will be more enduring than the previous rate hikes," said Alan Richardson, who manages an Asean equity fund at Samsung Asset Management. "This time, the hikes will support currency strength and foreign funds will start to accumulate in Indonesia and Philippines as U.S. growth expectations have peaked."
The Southeast Asian countries are trying to lure back overseas investors after they pulled a combined $4.6 billion out of local equities so far this year. The Jakarta Composite is down 5.4 percent in 2018, and the Philippines' benchmark gauge has slumped 17 percent, even after Friday's gain, hurt by the impact of higher U.S. rates on emerging markets. The Federal Reserve is on course to lift borrowing costs for a fourth time this year in December.
Bank Indonesia "is really trying to stay ahead of the curve," said Jemmy Paul, President Director of PT Sucorinvest Asset Management in Jakarta. "This could be the turning point for foreign funds, where they regain their confidence in the stability of the rupiah."
Still, not everyone expects global investors to return to the countries' embattled markets in a big way before year-end.
Interest in emerging-market assets like Philippine equities has receded due to waning global growth expectations and concerns about the knock-on effects of a U.S. market sell-off on developing markets, said Noel Reyes, who oversees $1 billion as chief investment officer at Security Bank Corp. in Manila.
"Whatever path the central bank has decided wouldn't matter since the bearish sentiment in equities is externally driven," he said.