Philippine Homes Selling Even as Rates Rise, Megaworld Says
(Bloomberg) -- Megaworld Corp., the Philippine home builder founded by billionaire Andrew Tan, isn't seeing any slowdown in demand from overseas or local buyers despite the central bank Thursday delivering its fifth rate hike since May. The stock climbed to the highest in more than two months.
"The market hasn't been affected by higher interest rates as of now," Senior Vice President Kevin Andrew Tan, the son of the founder, said in an interview. "We're seeing strong demand from both foreigners and locals, although I have to admit it's foreign demand that's been pushing up prices."
Real estate in the Philippines has been the recipient of a steady flow of Chinese money as thousands of migrants flood Manila, in part motivated by the country's booming gaming industry. Strengthening ties with China has also been a priority for President Rodrigo Duterte as President Xi Jinping pushes his ambitious Belt and Road initiative.
Demand isn't only robust in Manila, but also in the provinces, where the impact on the housing market of money repatriated by Filipinos working and living overseas is very visible, according to Tan.
Revenue from pre-sales could reach 130 billion pesos ($2.5 billion) this year, higher than the company's previous guidance of 110 billion pesos, boosted by additional residential project launches, Tan said. Megaworld had 105.8 billion pesos in pre-sales for 2018 as of Sept. 30, and started to market 78.4 billion pesos of new residential developments.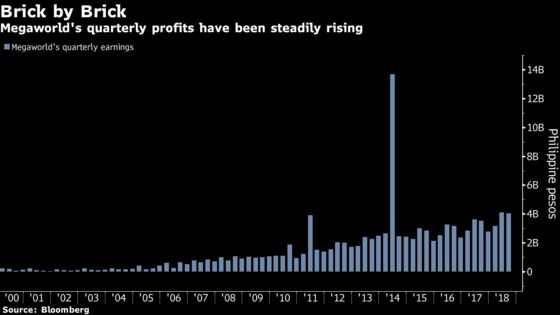 Office developments are also proving lucrative as online casino companies move in and business process outsourcing firms expand. Megaworld is one of the Philippines' biggest landlords for call centers and other outsourced services. When companies lease commercial properties, they often either buy or sell homes and apartments nearby that can be used to house staff, Tan said.
Even so, property developers haven't been spared from the broader stock-market selloff as investors worry interest rate rises will ultimately cool demand. Friday's gain trimmed Megaworld's decline this year to 10 percent. Trade tensions between China and the U.S. and a weaker peso have also had a negative impact.
A weaker currency -- the peso is down 5.2 percent against the greenback this year -- is however supporting home purchases by foreigners and Filipinos living and earning money overseas, according to Steven Ko, who helps manage 60 billion pesos as a trader at Rizal Commercial Banking Corp.
"The outlook remains positive but this hasn't translated into higher share prices for developers," he said, citing investors' concerns about rising interest rates.