Philippine Fund Up 14% in Brutal Year Looks to Frontier Markets
(Bloomberg) -- A Philippine fund manager that made money amid the 2018 equity meltdown is now looking for new horizons.
Michael Garcia, the chief executive officer and chief investment officer of MBG Capital Inc. in Manila, wants to apply his expertise of Philippine shares to Vietnam and Myanmar. While considered frontier markets, he says they offer investment themes similar to the ones he's familiar with and bets they'll take his Seahedge Philippines Fund a step further after a 14 percent rally last year.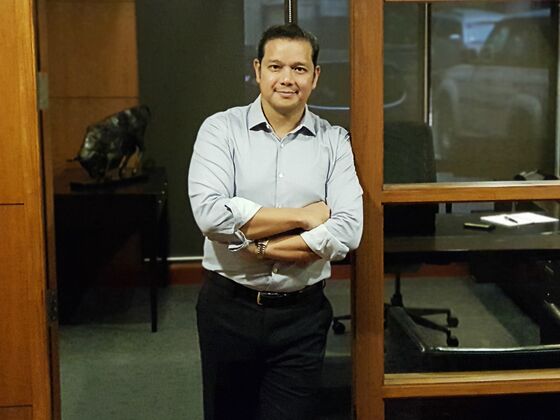 "These are like the Philippines before the reforms that attracted global investors," said Garcia, who quit his job as CIO of Union Bank of the Philippines in 2011 to be on his own. He manages $60 million now. "These will be Asia's hottest markets in the future with consumption, tourism and infrastructure stories similar to what we see now in the Philippines."
He started dipping his toes into Vietnam in early 2017, and 10 percent of his Seahedge fund is invested in the country's stocks. His holdings include Vietnam Technological & Commercial Joint Stock Bank and FPT Digital Retail JSC. The remaining 90 percent is in Philippine shares.
While Garcia said the Philippines will remain his primary market, he wants to bring the portion of overseas shares to 20 percent. He's now looking into Yoma Strategic Holdings Ltd., a Burmese property developer listed in Singapore.
The countries he's targeting are among Asia's fastest-growing economies, with the World Bank estimating this year's expansion will reach 6.5 percent for Myanmar and the Philippines, and 6.6 percent for Vietnam.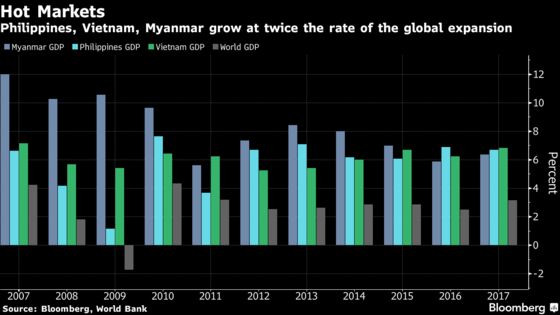 The lack of liquidity and of regular, reliable corporate information in frontier markets are not a source of worry for Garcia. As a long-term investor, he keeps his positions until they hit his perceived potential based on the companies' growth prospects. With jumps of more than 50 percent last year, it's his San Miguel Food and Beverage Inc. and Filinvest Development Corp. shares that did the trick -- he's had them since 2015. He's keeping his Philippine stock holdings unchanged for now.
"I buy stocks nobody loves," he said. "I find my stocks in the market subset that's overlooked, under-researched, misunderstood and under-owned by institutions. It's when everybody wants to hold and my targets are achieved that I say it is time to go and look for the next gem."