Peru Keeps Key Rate at 2.25% to Bolster Economic Recovery
(Bloomberg) -- Peru's central bank kept borrowing costs unchanged at a nine-year low as policy makers seek to fuel a rebound from the slowest economic expansion in a decade.
The central bank, led by its President Julio Velarde, held the benchmark lending rate at 2.25% on Thursday, matching the forecasts of 13 of 15 economists surveyed by Bloomberg. The two remaining analysts expected a quarter-point reduction.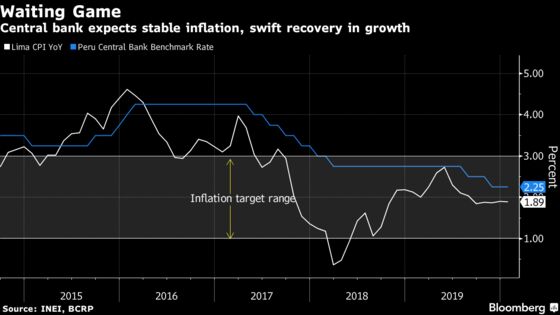 In a statement accompanying its decision, the central bank said its inflation forecast has a "moderate" downward bias due to the possibility of lower-than-expected domestic demand growth.
The board said it's monitoring new inflation data in order to consider changes to monetary policy.
A pair of rate cuts since August have left the inflation-adjusted interest rate close to zero, and officials may now leave it to fiscal policy to provide additional stimulus. There are signs that measures to revert last year's decline in public works outlays are working. Public investment surged almost 90% last month from a year earlier as local governments ratcheted up spending.
Peru's $222 billion economy likely expanded little more than 2% last year, its slowest pace in 10 years, as down-shifting global growth hurt copper exports from the world's second-largest producer of the metal. The bank sees the economy expanding 3.8% this year, while analysts are a little less optimistic.
Meanwhile, the country's annual inflation rate came in at 1.9% in January -- the lowest among Latin America's major economies -- and has held just below the mid-point of the central bank's target range for five months.