Peru Keeps Key Rate Unchanged After Its Economic Recovery Hits a Setback
(Bloomberg) -- Peru's central bank held borrowing costs unchanged as tame inflation allows it to keep stimulating the economy after growth slowed in the third quarter.
The central bank board, led by its President Julio Velarde, kept the benchmark lending rate at 2.75 percent for the ninth consecutive month on Thursday. That matched the forecast of all 11 economists surveyed by Bloomberg.
"The board considers it appropriate to maintain an expansive monetary policy position while inflation expectations remain anchored" and economic activity is below its potential, the central bank said in a statement accompanying its decision.
Policy makers are holding borrowing costs at an eight-year low to bolster the economy after its recovery lost steam on a decline in mining output and public works. While Velarde forecast last week growth will bounce back in the fourth quarter, the board is under no pressure to raise rates given inflation remains under control.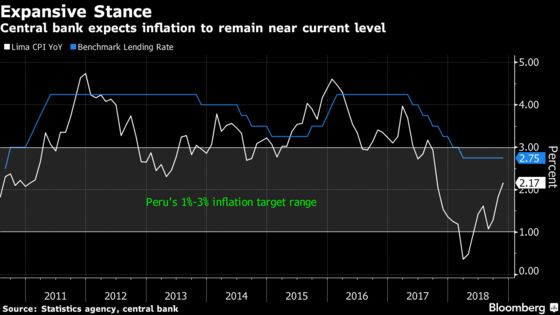 "The bank may feel a bit more comfortable staying on hold until there are clear signs of a firm recovery," Mario Guerrero, an economist at Scotiabank Peru, said before the announcement. "The bank's stance is very expansive but they seem very comfortable with the current rate."
The South American country is increasingly relying on domestic demand to fuel growth after global trade tensions triggered a drop in the price of copper, its biggest export. Peru posted its first trade deficit in more than two years in October as exports fell.
Lower prices haven't slowed construction on new copper mines by companies including Anglo American Plc, with those expenditures expected to underpin faster growth over the next year. Velarde said fourth quarter growth is projected to rise 4.9 percent over 2017, more than double the pace of the previous three months.
At the same time, this year's pick-up in private investment, formal employment and steady consumer demand aren't putting pressure on prices. Annual inflation was 2.2 percent last month, the lowest among major Latin American economies. Peru's central bank has an inflation target range of 1 percent to 3 percent.
Going forward, public investment is likely to drop in the first half of next year as new local mayors and governors typically struggle to execute projects in their first few months in office, Banco de Credito del Peru said in an emailed note on Dec. 10. That may lead policy makers to delay any monetary tightening until the second quarter, according to the report.