Penny Stocks Soar as China's Bull Market Gathers Momentum
(Bloomberg) -- Penny stocks are joining China's bull market, just as they did four years ago.
Shares quoted below 2 yuan (30 cents) at the start of 2019 have on average jumped 40 percent, according to data compiled by Bloomberg. Meanwhile, the Shanghai Composite Index has rallied 24 percent -- the world's best-performing major benchmark -- and a big-cap gauge is close to erasing the losses it suffered last year.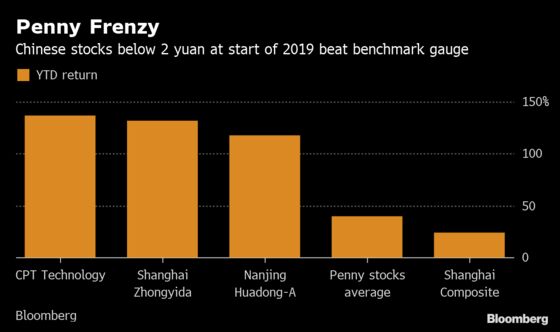 One of the best performers among the 48 penny stocks is textile equipment maker Shanghai Zhongyida Co., which has soared 132 percent this year. Investors shrugged off the "special treatment" designation it received from the Shanghai exchange after it reported consecutive annual losses.
Shanghai Zhongyida was at risk of delisting and had difficulty disclosing its 2018 results, according to a March 1 statement by Cinda Securities Co., which manages a fund with a 24.3 percent stake in the firm. Shanghai Zhongyida's main business operations had come to a halt and some executives couldn't be reached, the statement said.
CPT Technology Group Co. has climbed even further, with a 137 percent rally in 2019 despite also facing challenges. In late January, the electronic components maker said it would likely post a loss of as much as 5.5 billion yuan for 2018. Another company, Nanjing Huadong Electronics Information & Technology Co., has advanced 118 percent this year.
Penny stocks also outperformed China's benchmark in the 2015 boom as retail investors poured into the red-hot market.