Mexico's Pemex Needs More Than Money to Turn Itself Around
(Bloomberg) -- The Mexican government's planned aid package for Petroleos Mexicanos could be slapping on a Band-Aid when a tourniquet is needed to stem the bleeding.
Pemex, the most indebted oil company in the world, saw its annual oil output fall to the lowest since at least 1990 last year, and Fitch Ratings downgraded its bonds last week to one notch above junk. Now Andres Manuel Lopez Obrador, Mexico's new president, is promising to announce within days a financial aid package for the company that will buttress the 66 billion pesos in tax breaks over six years that was announced last month.
It's welcome, analysts say, but don't expect a quick turnaround. At the same time Lopez Obrador is pouring money into Pemex, he's dialed back on energy reforms that let the company share its development costs with other producers, and suspended auctions that let private explorers bid on the rights to drill Mexico's promising oil blocks.
"It's erroneous to assume that money alone will fix Pemex's problems, such as inefficient use of capital, operational issues and poor administration for projects," said Alejandra Leon, an analyst at IHS Markit in Mexico City. The new government "is trying to go against the current," she said. "But now everything's going to go a lot slower."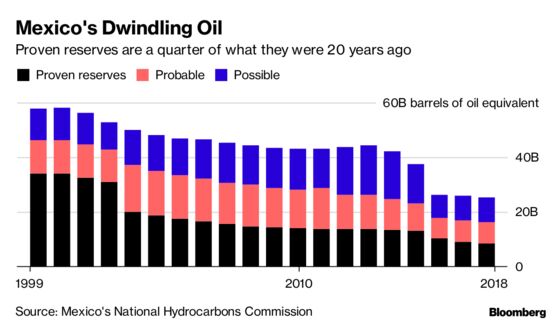 At a time when Mexico should be reaping the benefits of added demand for crude in the wake of U.S. sanctions on Venezuela and global market turmoil, it can't even produce enough light oil for its own refineries. Its proven reserves have fallen to just a quarter of what they were almost two decades ago.
Mexican light crude grades such as Olmeca and Isthmus have vanished from the global market because of output declines. And in November and December, Pemex was forced to import U.S. oil from the Bakken shale play in North Dakota to feed its refineries, of which two out of six have been shut for months for maintenance.
"Pemex has had very little capability for many years, but the reforms were a light at the end of the tunnel that's now been shut off," said IHS Markit's Leon. "There's very little confidence in what Pemex will do in the future."
Pemex's biggest onshore discovery in recent years, the billion-barrel Ixachi field that promises to add 80,000 daily barrels of condensate and 720 million cubic feet per day of gas in four years, will be developed without partners, Pemex has said. But analysts remain skeptical.
"Ixachi is the only project in Pemex's accelerated development plan that has any big potential and there's no one in Mexico that has experience to develop it because it's high pressure, high temperature," said John Padilla, managing director of energy consultant IPD Latin America LLC.
"The last time it drilled at high pressure, high temperature was the 1970s big Ixtoc blowout," Padilla added, referring to the 1979 Ixtoc platform blast in Campeche, one of the world's largest oil spills at more than three million barrels.
Pemex's other promising offshore projects are "on standby," Leon said. That includes deep-water Nobilis-Maximino and Ayin-Batsil that were originally planned to be re-tendered this year under new terms, as well as technically challenging heavy oilfields like Ayatsil.
The fiscal measures could "be helpful for marginal fields, assets that you were border-line making money on, or in some cases losing money on," said Pablo Medina, vice president of Welligence Energy Analytics in Houston. But "what you really need," he said, "is a massive program for farm-outs" that allow Pemex to both share the cost of bigger projects with private producers, and access their expertise.
Private companies in Mexico have had good results, noted Medina. Mexico's shallow-water Zama field was discovered in 2017 by Talos Energy LLC, Premier Oil PLC and Sierra Oil & Gas S de RL de CV, and is believed to hold two billion barrels of oil equivalent.
The same year, Italy's Eni Spa also found an estimated two billion barrels in an area comprising the Amoca, Mizton and Tecoalli shallow-water oil fields in the southern Gulf of Mexico. The Trion field is one of Pemex's few deep-water projects; it's operated by BHP Billiton Ltd.