Peace at Last for South Sudan? That May Depend on the Price of Oil
(Bloomberg) -- A civil war has cast South Sudan into five years of bloody upheaval. The latest peace deal may hinge on something that's almost as unpredictable: the oil price.
A new power-sharing bid should fling open the doors of President Salva Kiir's government and bring former rebels into the cabinet and parliament, with much of the funding for the expanded state coming from revitalized production of sub-Saharan Africa's third-biggest oil reserves. But pegging peace to a resource that's recently brought wildly varying revenue is ringing alarm bells.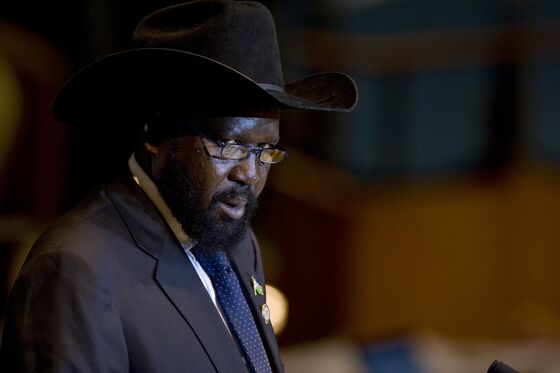 A deal like this "is workable only for as long as the configuration of power actors remains as it is and the money keeps flowing," said Alex de Waal, executive director of the World Peace Foundation at Tufts University in Massachusetts. "If there's any disruption to either, then the agreement will unravel."
Oil has played a key part in the conflict that's uprooted 4 million people and may have led to as many as 400,000 deaths since it started in December 2013. After one of the East African nation's two oil-producing states halted operations early in the war, former Vice President Riek Machar's rebels targeted facilities in the other in a bid to cut the government's near-sole source of revenue. Until recently, output has averaged about 130,000 barrels per day, down from 350,000 barrels at South Sudan's independence in 2011.
The temporary decline in world oil prices from 2014 added to the woe, spurring an economic crisis and draining the central bank's foreign reserves. When former ruler Sudan -- which gets crucial income from transporting the fuel to market via its pipelines -- brokered the latest peace deal, it made rehabilitating the shuttered fields a priority.
Disputes between the two nations over crude put them on the brink of war in 2012, with South Sudan stopping all production before restarting the following year.
South Sudanese officials wouldn't disclose oil revenue figures. Estimates calculated by multiplying annual output cited in a recent BP Plc energy report by the average price for Brent crude shows the total earnings may have been $2.02 billion last year, before oil companies took their shares or transit fees were paid to Sudan.
That's down from an estimated $5.26 billion in 2014 -- the first full year of the war, but also the first after the shutdown dispute.
How much cash does South Sudan oil generate?
Avg. Brent Price
($)
Annual Output (bbl)
Estimated Revenue ($ bln)
2012
94.15
31,000
1.07
2013
98.02
100,000
3.58
2014
92.93
155,000
5.26
2015
48.78
148,000
2.64
2016
43.44
117,000
1.86
2017
50.85
109,000
2.02
Sources: BP Plc, Bloomberg data
Recent developments could be a boon for the nation's finances: Brent is just above $80 a barrel and facilities in former Unity state resumed pumping in late August, adding 45,000 barrels to daily output. When the transitional government takes shape in about May, Machar will be reappointed one of Kiir's five new vice presidents, the cabinet will be expanded to 45 ministers and deputies from 30, and parliament will grow to 550 lawmakers from 400.
The revenue may "sustain the expenses of the many people who are part of the respective camps" in the expanded government, said Harry Verhoeven, who teaches at the School of Foreign Service at Georgetown University in Qatar. But he warned the volatility of oil prices means "that any deal depending on the ability to pay off a large number of people is a very fragile basis."
"In many ways, it would actually work against the establishment of strong institutions which have been the values and principles of arguments on financial arrangements," he said by phone. "While in the short term it helps to bring a number of people together and give them money, in the longer run that is unlikely to be a critical basis for peace."
There are other potential obstacles. The United Nations has warned of lingering distrust between Kiir and Machar's forces, and a previous power-sharing deal collapsed in July 2016, ushering in some of the war's worst atrocities.
Fighting between rebel groups in the first two weeks of October left 26 people dead, the Juba-based Dawn newspaper reported Wednesday, citing the army. The clashes were initiated by another rebel group that's not party to the peace agreement, a spokesman for Machar's movement said on his Facebook account.
Amnesty International said last month that pro-government forces rampaged through opposition-controlled areas in the north between mid-April and early June, even as peace talks were under way. Some smaller rebel groups aren't party to the pact.
While fighting has mostly stopped, there remain "some hotspots" of violence in the north, the UN's under-secretary-general for peacekeeping, Jean-Pierre Lacroix, told reporters on Oct. 9 in the capital, Juba.
Not everyone's pessimistic. Marial Awou Yol, dean of the school of economics at the University of Juba, said the new revenue means "we will have enough resources to implement and sustain peace." The transitional administration needs to commit to reforming governmental and economic institutions and nurturing good relations with foreign countries to encourage investment, he said.
"We are happy with the progress being made in the peace process in South Sudan, but we are also very concerned with the suffering of the common people," President Uhuru Kenyatta of neighboring Kenya said in an emailed statement on Wednesday.
Some of the cash influx will go toward debts. South Sudanese Petroleum Minister Ezekiel Lul Gatkuoth said in September his country still owes Sudan about $1.2 billion under an agreement to compensate the north for the loss of three-quarters of the formerly united nation's oil when the south seceded.
Khristopher Carlson, a senior researcher with the Geneva-based Small Arms Survey, said higher oil prices may help calm current tensions, but the use of such funds to "support development and reparation for people affected by years of conflict -- a foundational element for long-term peace in the country -- remains off in the distance."
"Should oil prices drop, or oil money otherwise not stretch far enough to maintain the sharing of wealth among the elites of South Sudan, then serious challenges may quickly return," he said.