Panic in Volatility Markets Is Getting Even Worse Than Stocks
(Bloomberg) -- The worst week for stocks since 2008 looks even scarier in the volatility market.
This below chart shows the difference between the daily percent change in the S&P 500 and the net change in the VIX Index, a gauge of implied volatility often called Wall Street's fear gauge. Readings above the red line indicate the VIX increase was larger than expected for a given retreat in stocks, or the fall is smaller than anticipated for an increase in equities.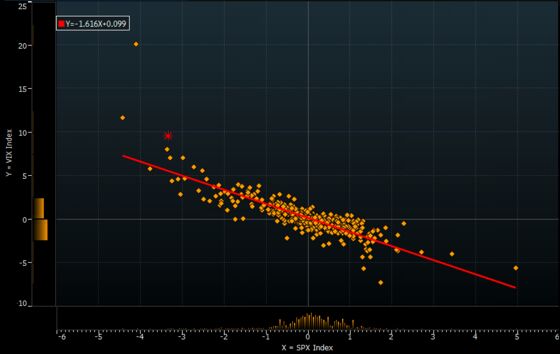 Only two episodes since 2018 are farther away from the regression line than Friday's reading (denoted in red) during a session associated with a material decline in the S&P 500. One is Volmaggedon, the 20-point jump in the VIX in February 2018. The other reading is Thursday.
The VIX rose as far as 49.48 on Friday, its highest level since the market turmoil that followed the August 2015 devaluation of the Chinese yuan.