Pandora Plans `Reset' in Bid to Shore Up Investor Confidence
(Bloomberg) -- Pandora A/S has come undone again.
The Danish charm bracelet seller plans a "reset" after cutting its outlook and abandoning a long-term sales goal. The company said it's scaling back acquisitions of franchised stores and focusing new openings on promising markets like China, as it looks for a new chief executive officer.
Since hitting a peak two years ago on the back of a global expansion, Pandora has fallen to earth amid the rise of online shopping and cheap Chinese imitations, wiping almost $12 billion off its market value. The shares recouped early losses of as much as 12 percent on Tuesday, trading 0.8 percent lower at 12:05 p.m. in Copenhagen.
As Pandora seeks a new leader, successive profit warnings have undermined investor confidence, prompted hedge-funds to take aim at the stock and fueled takeover speculation. The company insisted that the absence of a CEO won't hold it back as it pursues a more modest growth agenda.
Chief Financial Officer Anders Boyer said the latest results were "unsatisfactory." Per Hansen, an investment economist at Nordnet in Copenhagen, was more blunt, calling them "terrible."
After at least two years of false starts in which the jeweler has been struggling with an increasingly challenging U.S. retail environment, investors have been losing faith. Pandora's move to reposition itself in the so-called affordable luxury segment, during which it expanded to more than 2,500 stores in shopping malls around the world, has fallen flat.
The market value, which rose to just shy of 120 billion kroner ($18 billion) after a more than 20-fold runup in the shares from 2011 through mid-2016, has plunged to about $6.1 billion.
Pandora "is facing an increasing number of issues which we now determine to be more structural than cyclical," RBC analysts said in a note. "We do not see any immediate fixes to improve investor sentiment."
The company last cut its outlook in August, which led to the dismissal of CEO Anders Colding Friis. CFO Boyer and Chief Operating Officer Jeremy Schwartz have jointly taken on the role of CEO until a permanent replacement for Friis is found.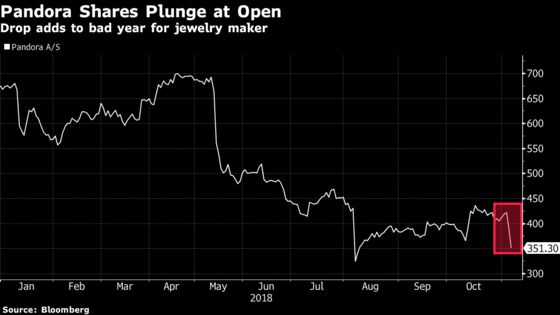 Boyer, who in an interview with Bloomberg Television ruled out becoming CEO, said the absence of a permanent top executive isn't hampering Pandora's efforts to adjust its strategy. When asked to address speculation that Pandora might be taken over by a private-equity firm, Boyer said he can't comment on what he characterized as "rumors."
Aside from cutting its outlook, Pandora also delivered a third-quarter profit that fell short of analyst estimates. For investors and analysts, "it's hard to know which numbers to put in their models," Hansen said.