Palm Stockpiles in World's No. 2 Grower Seen at 10-Month Low
(Bloomberg) -- Palm oil inventories in Malaysia, the world's second-biggest grower, likely shrank to the smallest in 10 months in May as overseas shipments rose on festive demand.
Stockpiles fell about 10% from April to 2.46 million metric tons, which would be the steepest monthly decline since August 2016, according to the median of eight estimates in a Bloomberg survey of analysts, traders and plantation executives. That would bring stockpiles to the lowest level since July.
Crude palm oil production eased 1.8% to 1.62 million tons, the lowest since February, while exports rose 3.6% to 1.71 million tons, the highest monthly level since August 2016, according to the survey. The Malaysian Palm Oil Board will release official data on June 12, it said.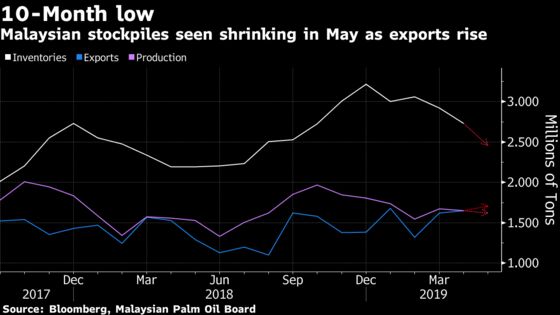 "Even as inventories ease, we are now entering the yearly main harvesting period and Indonesia has been in a high production cycle since April," according to Marcello Cultrera, institutional sales manager at Phillip Futures Sdn in Kuala Lumpur.

It's also worth watching Malaysia's import levels in May, he says. Malaysian palm prices have recently been about $30 a ton more expensive that those in nearby Indonesia and that may encourage imports.
Crude palm oil prices are expected to face a sharp downtrend in the near term in-line with the bearish momentum in crude oil as well as palm traded in Dalian and Singapore markets.

Benchmark futures will likely trade between 2,000 and 2,250 ringgit a ton in the second half of the year as demand improves, especially from India, according to the world's biggest palm planter Sime Darby Plantation Bhd.
Estimates in the survey for palm stockpiles ranged between 2.31 million tons to 2.50 million tons.

Output estimates varied from 1.60 million tons to 1.68 million tons, and for exports 1.65 million to 1.77 million tons.

Malaysian palm oil imports are forecast to climb to 70,000 tons in May from 62,112 tons the previous month.
Estimates for domestic consumption ranged from 220,000 tons to 330,000 tons.
Benchmark palm futures on Bursa Malaysia Derivatives closed 1.3% higher at 2,055 ringgit a ton on Tuesday.
| | May 2019 (Survey) | April 2019 (MPOB) | May 2018 (MPOB) |
| --- | --- | --- | --- |
| Production | 1.62 | 1.65 | 1.53 |
| Stockpiles | 2.46 | 2.73 | 2.19 |
| Exports | 1.71 | 1.65 | 1.29 |
| Imports | 0.07 | 0.06 | 0.03 |
NOTE: May figures, in million metric tons, are based on the median of eight estimates.