Palladium Topples Record Again on `Extreme Tightness' in Supply
(Bloomberg) -- Palladium surged to a record for a second straight day as Chinese demand rises amid what Citigroup Inc. calls "extreme tightness" in supplies.
On Friday, spot palladium rose as much as 2.5 percent to an all-time high of $1,186.66 an ounce, poised for the fourth gain in a row. The commodity used in vehicle pollution-control devices is up about 11 percent this year, the best performance among major metals.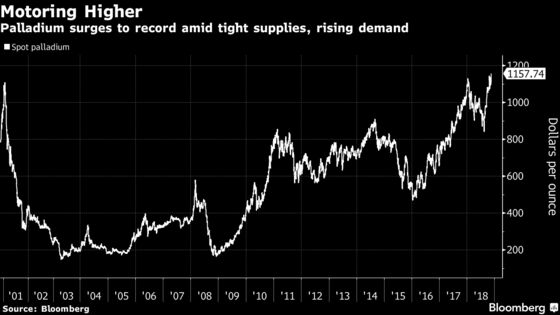 China's new auto emissions standards are likely to boost demand for platinum-group metals, which include palladium, the World Platinum Investment Council said in a report Thursday. Citigroup has projected more production shortfalls and said this week that prices could climb as high as $1,300 in the second quarter of 2019.
"The combination of tightening emissions standards and continued auto-production growth means that China's appetite for these metals has significant room to grow," said Brendan Clifford, manager of investor development at the World Platinum Investment Council.
Scarce supply has created a lucrative business of lending the metal, spurring withdrawals from exchange-traded funds. Consumers of the metal, which is used mostly to curb pollution in gasoline-fueled vehicles, have turned to the lease market for supply.
The rise in prices has attracted the attention of hedge funds. Money managers boosted their net-long position in palladium futures and options last week to the highest since March, according to U.S. Commodity Futures Trading Commission data.
Spot palladium advanced 1.5 percent to $1,175.62 an ounce at 11:21 a.m. in New York. The metal is up 5.3 percent this week.