Palantir Rallies After Steve Cohen's Point72 Snaps Up Shares
(Bloomberg) -- Palantir Technologies Inc. surged to a fresh high after Steve Cohen's hedge fund and others disclosed they've been buying shares of the data-mining company.
Point72 Asset Management LP bought 29.9 million Palantir shares in the third quarter, according to a 13F filing released Monday. Anchorage Capital Group also acquired 2.95 million shares. Soros Fund Management LLC said in a statement released Tuesday that its current stake in Palantir amounts to about 1% of its Class A shares and it's the result of a private early-stage investment made in 2012.
Palantir shares rose as much as 18% in intraday trading on Tuesday. The stock has gained over 150% since it went public in September.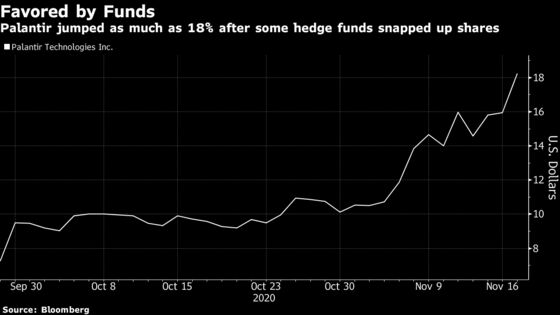 Since starting up in 2003, co-founder and chairman Peter Thiel has helped bankroll the business throughout its long period as a privately held business. The Denver-based company, which sells data analysis tools to governments and companies has climbed about 70% since the U.S. election as investors were optimistic about Palantir's prospects after Joe Biden was elected president.