Pakistan Slashes Key Rate to 16-Month Low in Surprise Move
(Bloomberg) -- Pakistan's central bank unexpectedly cut its policy rate for a third time in a month in an attempt to revive economic growth that has stalled because of a lockdown to stop the spread of the coronavirus pandemic.
State Bank of Pakistan cut its key target rate by 200 basis points to 9% in an unscheduled meeting, according to a statement from the central bank. That's the lowest since November, 2018. It also forecast economic growth will contract 1.5% for the year ending June, compared with a previous estimate of a 3% growth.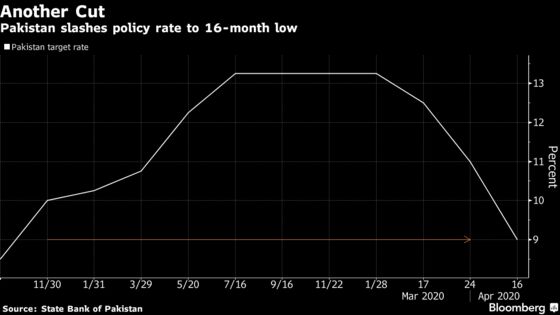 The domestic indicators "suggest a significant slowdown in most parts of the economy in recent weeks," the central bank said in the statement. "This action would cushion the impact of the coronavirus shock on growth and employment."
The biggest policy-rate reduction in about 18 years by the central bank follows multiple stimulus packages amounting to 450 billion rupees ($2.5 billion) announced by the administration of Prime Minister Imran Khan. The government also began reopening some industries to revive the economic activity and prevent people from falling into poverty.
"The cut is a step in the right direction," said Khurram Schehzad, chief executive officer at Karachi-based advisory Alpha Beta Core Solutions Pvt. "This will not only create much-needed fiscal space but also provide room to all the large and medium size businesses who in turn should redirect these savings to support employment."
Pakistan's coronavirus infections increased by 414 on Thursday to about 6,900. It also reported 128 deaths from the disease.
Pakistan will also get temporary relief from repaying International Monetary Fund's debt, according to people with knowledge of the matter. The moratorium will last until the end of the year. The nation makes about $10 billion in debt payments annually, Foreign Minister Shah Mahmood Qureshi said in a televised speech on Thursday.
Pakistan also expects to receive additional $1.4 billion from the IMF Thursday to counter the after securing a $6 billion loan last year.