Pain or Gain as the Bund Yield Heads Back to Zero?: Taking Stock
(Bloomberg) -- While European stocks' new-year rally is losing steam, with a number of technical flags recently pointing to a pause, it's worth having a look outside the equity world for some insight. Fixed income is a good place to start: the German 10-year bund yield is drifting toward zero, hitting its lowest level since November 2016, with big consequences for stocks and sectors.
At first sight, falling German yields may sour the mood for stocks, given the bund's status as the euro-area's sovereign-debt benchmark. The drop in yields seem to signal headwinds for the euro area, and it doesn't bode well for the region's banks, strongly correlated to the yields.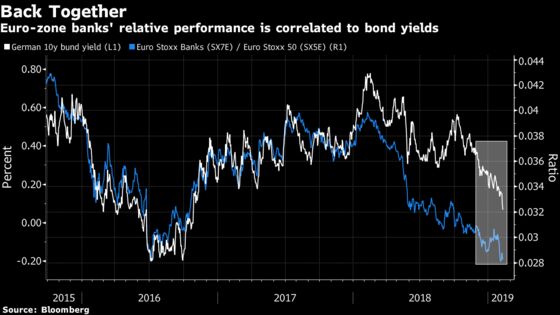 Coupled with a sharp rise in Italian spreads, this gives a sense of deja-vu and raises concerns that investors are turning more defensive again.
"It is more the reasons for the bund yield moves that are important, rather than the bund yield itself," says Andrew Koch, a fund manager at Legal & General Investment Management in London. "Fears about several aspects of the world economy are turning investors more cautious. The stocks that are holding up better are generally the defensive ones (health care, food, beverages household and personal goods)."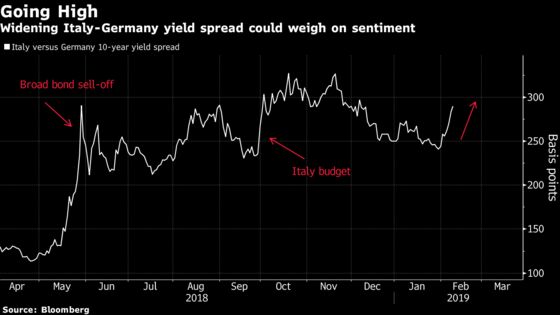 Some money managers remain optimistic however. William Hobbs, chief investment officer at Barclays Investment Solutions in London, thinks the new-year rally is not over yet.
"Many of the problems currently weighing on German activity are likely transitory," Hobbs says. "We are seeing the first shafts of light following a seriously disruptive retooling of the auto sector with a rebound in orders." Yields may climb back as the economy proves to be less sick than the bond market seems to be suggesting, he added.
So how does this read for stocks? Currently, a low bund and a relatively low euro are potentially positive for exporters. It should make equities even more attractive, especially those with safe dividends as yields for European stocks are back to a record high.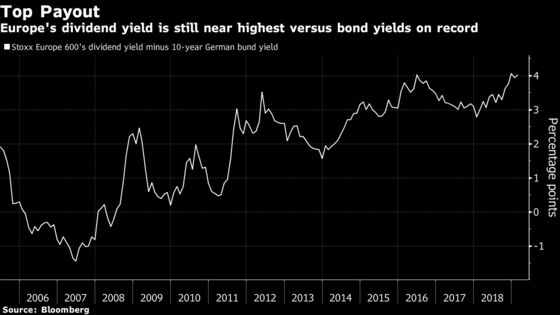 Mark Phelps, CIO of global concentrated equities at AllianceBernstein in London thinks that European equities with growing shareholder payouts are attractive. He cites Nestle a "poster child" as an alternative to bonds: "A rock solid balance sheet, an addictive product much loved by its customers, a 2.7 percent yield growing circa 10 percent in line with earnings. Or you could pay the Swiss government for the pleasure of holding their paper. Go figure."
Finally, for those who don't think U.K. stocks are uninvestable, Barclays's Hobbs offers another side to the story. He notes that the realized dividend yield for U.K. stocks now sits at a premium to the long-bond yield that hasn't been seen in 118 years of data.
Ahead of today's open, Euro Stoxx 50 futures are trading up 0.5 percent.
Watch European miners after traders in China returned to work after the Lunar New Year celebrations and drove iron ore futures higher again. Watch shares in companies like BHP, Rio Tinto, Anglo American and Ferrexpo among miners and keep an eye on steel stocks including ArcelorMittal, Tenaris and Evraz.
Watch Spanish stocks as Spanish political risk is back on the agenda, with thousands taking to the streets in Madrid to demand early elections and Prime Minister Pedro Sanchez facing pressure from his legislative allies ahead of key budget vote on Wednesday. The country also took an economic gamble by hiking its minimum wage by 22 percent.
Watch the pound and U.K. stocks as U.K. Prime Minister Theresa May is said to be planning to ask Parliament for more time to continue negotiations with the European Union on possible tweaks to her Brexit deal, meaning the vote scheduled for Valentine's Day could be shelved. Meanwhile, economists say there is nearly a one-in-three chance the U.K. will sink into recession in the next year.
Watch for political news in the U.S. as it appears congressional talks on reaching a budget agreement have broken down, raising the potential that the federal government will shut down once again at the end of this week.
"We think there is a strategic case for a higher allocation to gold and a tactical case to hold gold mining stocks in equity portfolios," Bernstein strategists write in a note. "There is a confluence of forces that lead to this conclusion: geopolitical, macro/debt-driven, supply-driven, the business cycle and with capital markets from the prospect of low returns in other asset classes."
Frozen food chain Iceland considering bidding for any stores Sainsbury, Asda are required to sell to get regulatory clearance for their proposed deal, MD Richard Walker says in FT interview.
Smith & Nephew has held talks to buy NuVasive in a deal that would be worth more than $3b, the Financial Times reported, citing unidentified people with direct knowledge of the talks.
Euronext has raised its offer for Oslo Bors VPS Holding, the owner of Norway's national stock exchange, in an attempt to thwart a rival bid from Nasdaq.
UniCredit 'Well Above' Specific Capital Requirements Set by ECB
Boskalis to Sell Equity Stake in SAAM SMIT Towage for $201M
Galp Fourth Quarter Adjusted Net Misses Estimates
InterDigital Offers to Buy Technicolor's R&I Unit
Buy Cloetta on Attractive Valuation, Dagens Industri Says
UBS Changes Bonus System for 10,000 Corporate Center Staff
Carlsberg Foundation Sells Shares to Carlsberg: Ritzau
Airopack Board Preparing Procedural Steps Against Former Mgmt
Chr. Hansen Targets 50% Growth for Health Unit, Borsen Says
Imperial Brands Chairman Mark Williamson to Step Down: Times
Lloyds Plans to Hire 700 Advisers in Wealth Management Push: FT
Total CEO Says Investment in Israel Is Too 'Complex': FT
British and U.S. Banks Said to Be Deeply Divided on Brexit Ties
Deutsche Post to Delay Postage Price Increase to Summer: FAZ
Lanxess Has Money to Play Role in Consolidation, CEO Tells FAZ
Banco BPM Says It Exceeded ECB Requirements After Capital Review
NOTES FROM THE SELL SIDE:
Morgan Stanley writes Lloyds should prove most resistant to the "difficult" U.K. banking net interest income (NII) outlook in 2019, given a "more seasoned book," >20% market share and manageable pricing pressures. Lloyds is upgraded to overweight (PT 78P), replacing Spain's Caixabank in European most preferred list; "stock is too cheap to ignore despite macro risks." RBS's mortgage refinancing risk, higher loan growth expectations and rate sensitivity put its NII more at risk; recommendation cut to equal-weight.
Liberum cut Barratt Developments and Bovis to hold as sector stance on U.K. housebuilders moved to more balanced position following gains in shares since Dec. lows. Says worst case scenario of hard Brexit may no longer be reflected in valuations, leaving risk/reward less favorable. Persimmon, Bellway, MJ Gleeson reiterated as top picks, good upside also in Galliford Try, Crest Nicholson, and some value seen in Redrow (all stocks buy rated).
Berenberg upgraded Metro Bank to hold, although PT more than halved to 1,200p following slump in shares. Says risks better reflected in shares, but near-term risks do still exist to downside.
TECHNICAL OUTLOOK for Stoxx 600 index:
Resistance at 365.1 (38.2% Fibo); 371.6 (200-DMA)
Support at 353.2 (50% Fibo); 349.7 (50-DMA)
RSI: 55
TECHNICAL OUTLOOK for Euro Stoxx 50 index:
Resistance at 3,193 (50% Fibo); 3,262 (March 2018 lows)
Support at 3,092 (50-DMA); 3,072 (61.8% Fibo)
RSI: 51.2
MAIN RESEARCH AND RATING CHANGES:
UPGRADES:
AAK upgraded to accumulate at Handelsbanken; PT 140 Kronor
Bank of Ireland raised to overweight at Barclays; PT 7.25 Euros
Ceconomy upgraded to add at AlphaValue
Lloyds upgraded to overweight at Morgan Stanley
Metro Bank upgraded to hold at Berenberg
Millicom GDRs upgraded to buy at SEB Equities; PT 650 Kronor
Suedzucker upgraded to hold at Bankhaus Lampe
Bankia downgraded to add at AlphaValue
Barratt downgraded to hold at Liberum
Bovis Homes downgraded to hold at Liberum
Norwegian Air downgraded to reduce at HSBC; PT 80 Kroner
Petrofac downgraded to neutral at JPMorgan; PT 5 Pounds
RBS downgraded to equal-weight at Morgan Stanley
Skanska downgraded to accumulate at Handelsbanken; PT 175 Kronor
TalkTalk downgraded to reduce at HSBC; PT 82 Pence
Sdcl Energy Efficiency Income Trust rated new buy at Jefferies
MSCI Asia Pacific down 1%, Nikkei 225 down 2%
S&P 500 up 0.1%, Dow down 0.3%, Nasdaq up 0.1%
Euro up 0.02% at $1.1325
Dollar Index little changed at 96.64
Yen down 0.23% at 109.98
Brent down 0.4% at $61.9/bbl, WTI down 0.9% to $52.3/bbl
LME 3m Copper down 1.1% at $6140/MT
Gold spot down 0.2% at $1311.3/oz
US 10Yr yield little changed at 2.63%
MAIN MACRO DATA (all times CET):
9:30am: (UK) Bloomberg Jan. United Kingdom Economic Survey
10:30am: (UK) 4Q P GDP YoY, est. 1.4%, prior 1.5%
10:30am: (UK) 4Q P Private Consumption QoQ, est. 0.3%, prior 0.5%
10:30am: (UK) 4Q P Total Business Investment YoY, est. -3.0%, prior -1.8%
10:30am: (UK) 4Q P GDP QoQ, est. 0.3%, prior 0.6%
10:30am: (UK) Dec. Visible Trade Balance GBP/Mn, est. £11.9b deficit, prior £12.0b deficit
10:30am: (UK) Dec. Trade Balance Non EU GBP/Mn, est. £3.8b deficit, prior £3.93b deficit
10:30am: (UK) Dec. Trade Balance, est. £3.0b deficit, prior £2.9b deficit
10:30am: (UK) Dec. Industrial Production MoM, est. 0.1%, prior -0.4%
10:30am: (UK) Dec. Manufacturing Production MoM, est. 0.2%, prior -0.3%
10:30am: (UK) Dec. Construction Output SA MoM, est. 0.1%, prior 0.6%
10:30am: (UK) Dec. Construction Output SA YoY, est. 1.5%, prior 3.0%
10:30am: (UK) Dec. GDP (MoM), est. 0.0%, prior 0.2%