Foreign Buying of Chinese Bond Surges Second-Most on Record
(Bloomberg) -- Foreign investors boosted their holdings of Chinese debt last month by the most since June -- reversing November's net-selling trend -- as the yuan rallied and bond yields fell.
Overseas funds added 82.7 billion yuan ($12 billion) -- the second highest increase since data became available in 2014 -- to hold a total 1.5 trillion yuan of onshore bonds by the end of December, according to the China Central Depository & Clearing Co. The yuan reversed seven months of declines toward the end of the year, rising on hopes a trade deal might be reached with the U.S. Lower hedging costs and a rally in bonds may have also helped drive inflows.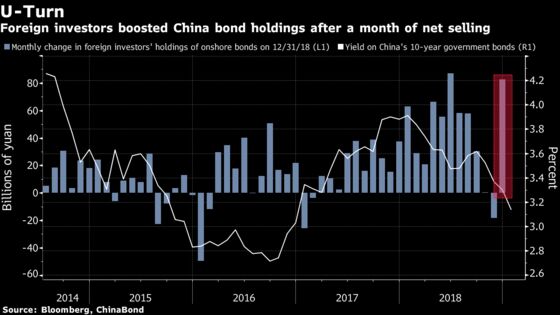 Chinese sovereign notes emerged among the world's best-performing government bonds in 2018, as the central bank eased monetary policy to boost flagging growth and a stock market collapse sent investors to the shelter of state debt. China watchers predict further gains this year, on expectations that foreign inflows to the $12 trillion market will pick up amid global index inclusions, and that the economy will continue to slow.
"Foreign investors will accelerate the pace of adding Chinese bonds," said Ji Tianhe, a strategist at BNP Paribas SA in Beijing, adding that the 10-year government yield could fall below 3 percent in the second half of the year. In addition to central banks and sovereign wealth funds, which have been the main investors in the market so far, real-money managers will step up buying as well, he said.
The yield on China's 10-year government bonds fell 2 basis points to 3.14 percent, the lowest since January 2017, as of 3:46 p.m. in Shanghai. The cost has plunged 79 basis points over the past year. The yuan strengthened 0.07 percent to 6.8684 per dollar. Foreign holdings of Chinese debt remain small, at about 2 percent of the market, according to official data.