India's Sensex Rises as Investors Weigh State Election Outcome
(Bloomberg) -- India stocks advanced in a volatile session as investors awaited the outcome of crucial state elections to gauge the political mood before national polls next year.
The benchmark S&P BSE Sensex climbed 0.5 percent to 35,513.14 in Mumbai after swinging between gains and losses nearly a dozen times. The NSE Nifty 50 Index closed at 10,685.60.
Votes in all the Indian state elections will be counted on December 11.
Investors are also awaiting the outcome at the Group of 20 summit this week, including a meeting between Chinese President Xi Jinping and U.S. President Donald Trump that may give clarity on how the trade war will play out.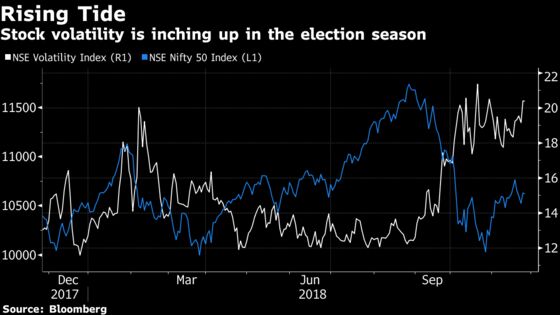 Thirteen of the 19 sector sub-indexes compiled by BSE Ltd. gained, led by the S&P BSE Information Technology Index, which climbed 1.7 percent. A measure of healthcare stocks fell the most.
Infosys Ltd. and Reliance Industries Ltd. gave the biggest boost to the benchmark index.
"The biggest overhang on the market is the political outcome and till that is out of the way, we expect the market to be range bound," said Sanjay Sinha, founder of Citrus Advisors in Mumbai.
"On the global front, the market is discounting any positive outcome from the Xi-Trump meeting. If the meeting doesn't lead to a positive outcome, we may see a negative reaction."
HSBC Raises India's Equities to Neutral on Valuations, Earnings
Morgan Stanley Sees Strong Indian Earnings as Pain Turns Pluses