Ex-Siemens Unit Osram Is Getting Cheaper for Prospective Buyers
(Bloomberg) -- Osram Licht AG just got a whole lot cheaper for any would-be acquirer.
After confirming talks last month with private equity investors for a possible takeover, the former Siemens AG division issued a sixth profit warning in a little more than a year on Thursday, sending the company's shares plunging.
Osram said annual sales, profit margin and cash flow would be lower than expected, and offered no fresh updates on discussions with Bain Capital and Carlyle Group LP. The alert took the stock down 13 percent, the most in nine months, leading to a near halving of the market value in the past year.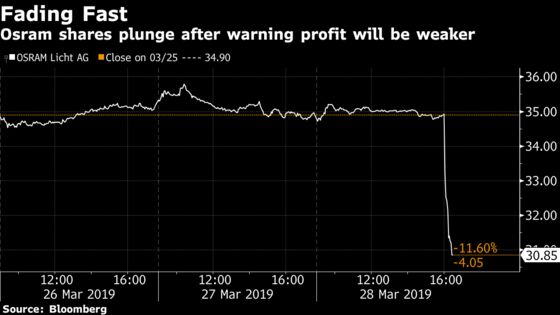 Osram makes headlamps for cars, and lasers for smartphones and smartwatches, and has struggled with slowdowns in both industries, leading to a serial lowering of forecasts by Chief Executive Officer Olaf Berlien and criticism from shareholders of his performance. A potential deal with Bain and Carlyle would take the business private about 18 months after Siemens sold off the last of its stake.
Osram in February said the two U.S. buyout firms are considering a joint acquisition. The suitors are conducting due diligence and could make a bid by the end of March, people familiar with the matter have said.
Berlien has steered Osram through a shift in focus to high-tech specialized lighting and LED chips, although he's failed to get a handle on weakening market demand. The company is closely tied to the automotive business and in January warned that a rout in the parts market had accelerated. It also makes laser diodes for iris scanners in smartphones, as well as components for heartbeat sensors in smart watches.
On Thursday, Osram said it's expecting revenue to fall between 11 percent and 14 percent in the 2019 fiscal year compared with a previous forecast of as much as 3 percent growth. The outlook for profit margin was also lowered and cash flow is expected be negative instead of positive.
Osram blamed weak demand from the car and mobile phone industries and said inventories are building up, especially in China. The company said the previous fiscal 2019 guidance put forth in February was made under the assumption orders would start coming in again.
"At this point in time such a development has not occurred, nor is it expected for the rest of the fiscal year," it said.
What Bloomberg Intelligence Says

"In addition to dashing any hopes the company had of a 2H recovery, we think pessimism will extend into 2020-21 estimates as well."

--Jawahar Hingorani, BI industry analyst
Click here to view the research.
Berlien began a series of profit warnings in February 2018 when the company forecast a slowdown in the headlamps business. Since then, he has lowered the company's outlook twice more in addition to alerts in two separate interviews of worse-than-expected results, taking the total to six warnings counting the one on Thursday.
"Aside from potential private equity interest, we see the short-term set-up for shares as rather complex," Morgan Stanley analyst Lucie Carrier said in a note. "It is clear that visibility is not improving and the key earnings drivers remain volatile."