An Options Trader Makes a Big Hedge Against a Marijuana ETF
(Bloomberg) -- An options buyer put a sizable hedge against the U.S. exchange-traded fund tracking the marijuana industry in a bet that pot stocks won't continue to soar.
Shortly before the market closed Thursday, the investor bought 5,000 October $34 puts and 5,000 October $24 puts on the ETFMG Alternative Harvest ETF, which goes by the ticker MJ, while simultaneously selling 10,000 October $29 puts. The move sent total options volume in the fund to more than five times its 20-day average. Put options give investors the right to sell the underlying shares for a set price.
The ETF lost 6.3 percent on Thursday, but has rallied nearly 40 percent over the last 30 days as its largest components -- Cronos Group Inc., Tilray Inc. and Canopy Growth Corp. -- have soared. Tilray, for example, has more than quadrupled in that time. The fund fell more than 5 percent in early trading Friday, but rebounded and was up 1.5 percent to $35.87.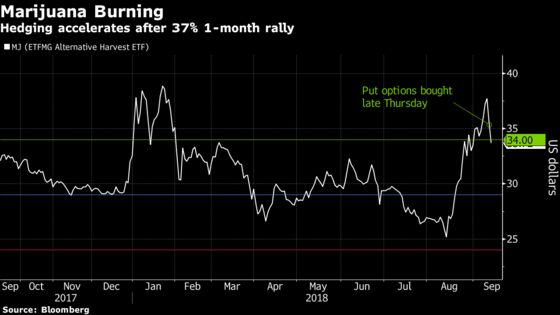 The wager would pay off if Thursday's downturn continues. The meteoric climb in marijuana shares was halted, at least temporarily, by reports that U.S. authorities may make it more difficult for cannabis industry workers, investors and users to enter the country.