Option Traders Scared to Bet Against Market Meltup, Sundial Says
(Bloomberg) -- U.S. equity options traders have never been more bullish, according to Sundial Capital Research Inc.
The ratio of call buying to call selling volume seen in recent months is at record highs, said Jason Goepfert, the firm's president, in a note to clients Monday. For every 100 options opened with a bearish outlook, 132 were opened with a bullish one, he said.
"Across all U.S. exchanges, the percentage of volume dedicated to buying speculative call options is extremely high," he said. "There has been a steady decline in call selling, as traders become ever more afraid that the market will melt up and take their short-call position with them."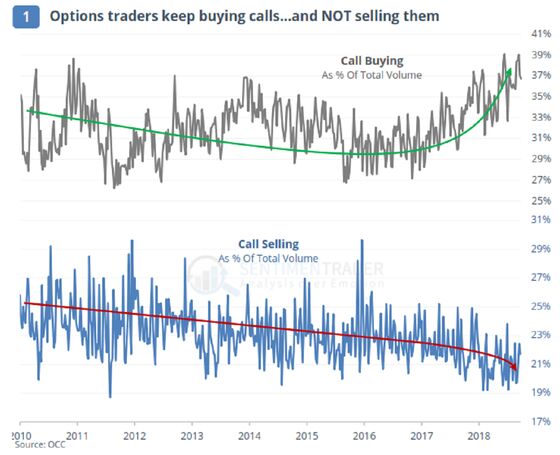 Since the 2009 market low, there have been 11 other weeks with such a high bullish-to-bearish ratio, according to the note. Losses were seen the following week on seven of those occasions, with an average decline of just under 1 percent, it said.
The S&P 500 Index is up over 9 percent this year, helped by robust domestic economy, buoyant technology stocks and overseas demand for U.S. assets. It's now just half a percent below the all-time high reached in September.
"The rally in stocks has been consistent enough that it has made options traders want to bet on the potential upside, and scared to bet against it by selling calls," Goepfert wrote. "That usually hasn't worked out in their favor."