Brazil's Hedge Fund Legend Beats Rival on More Optimistic Bet
(Bloomberg) -- Luis Stuhlberger and Rogerio Xavier are two of the most revered hedge-fund managers in Brazil, with a history of delivering outsized results for investors. They had also become famous for their pessimism -- but in last month's election, what paid off was the former's newfound optimism.
Stuhlberger's flagship Verde fund had a 3.77 percent total return in October, when Brazilians elected Jair Bolsonaro as president. Local assets soared with the result on hopes the ex-army captain will overhaul the nation's pension system and privatize dozens of money-losing state-run companies. Xavier's SPX Nimitz fund, on the other hand, had a 0.58 percent drop in the period. In the longer run, SPX is still ahead, posting a 9.2 percent return this year versus Verde's 7.2 percent.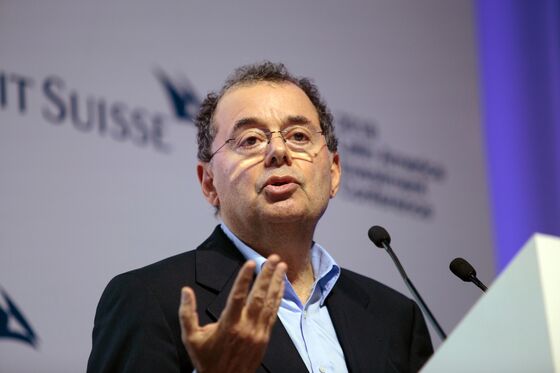 It was Stuhlberger's enthusiasm that propelled Verde's returns of late. The fund manager, who spent the better part of the past few years sour on Brazil, had already increased the fund's position in stocks to about 8 percent of the portfolio. Days before Bolsonaro got a comfortable advantage in the election's first round, Verde announced it was further boosting its bet. Now, the fund sees room for "growing optimism" and has about 15 percent of the portfolio in domestic stocks, much higher than recent years but about half the weight they had between 1997 and 2002.
Xavier, who earlier this year laid out a dire scenario for Brazil, is more positive as well, but with a more cautious approach. While the title of SPX's monthly report is "the benefit of the doubt," it cites a challenging global environment and a potentially difficult implementation of a fiscal austerity agenda in the country as possible issues ahead.
Verde has 20 billion reais ($5.3 billion) under management, and SPX has 18.6 billion reais. Here are other key insights from both managers' monthly letters: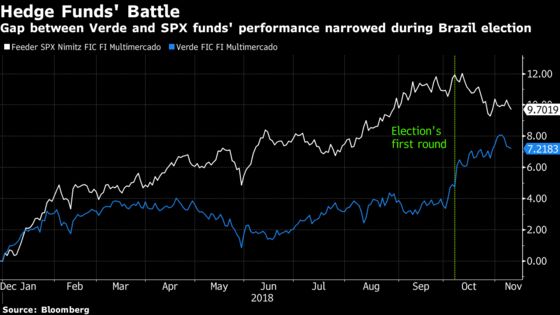 SPX says market is right to give the new administration the benefit of the doubt and that reform agenda could lead to sustainable long term growth; however, the fund expects "meaningful difficulties" in implementation of reforms as Congress is in "uncharted territory" in terms of political operation and didn't become more reformist despite high renovation rate
Verde says growth, especially in the next 18 months, doesn't depend on politics; in medium term, it will be determined by government's ability to address Brazil's deep fiscal woes
Both houses highlight a more challenging global scenario, especially with rising U.S. rates and slowing growth in China; but while SPX says that should reinforce the need for caution, it isn't enough to alter Verde's positive view for Brazilian assets
SPX is short EM currencies vs. the U.S. dollar, and long commodities stocks and banks; the fund closed bets on an interest rate increase in the short term and will wait for clearer measures from the new government to take positions; it's also long on corn and nickel, and short on soy
Verde has around 15% exposure to Brazilian stocks, as well as positions in the intermediate part of the rate curve; also carries smaller positions in U.S. rates; it doesn't detail positions on currencies or commodities