One of the Biggest Fund Owners of Puerto Rico Bonds Slashes Its Holdings
(Bloomberg) -- OppenheimerFunds Inc. and Franklin Advisers Inc. slashed their holdings of Puerto Rico bonds this year, taking advantage of a record rally in the price of the distressed island's debt.
It marks the first major retreat for OppenheimerFunds, one of the biggest mutual-fund owners of Puerto Rico debt and a company that's playing a major role in its bankruptcy. The firm decreased its holdings by nearly $1.6 billion by eliminating $610 million of sales-tax bonds, $376 million of electric utility debt, and $570 million of general-obligation bonds and other commonwealth-backed securities between Jan. 30 and Sept. 6, according to a court document filed late Tuesday.
Franklin has been steadily decreasing its Puerto Rico holdings and no longer held Puerto Rico general-obligation bonds as of December. But it cut its sales-tax-debt exposure by $86 million between Jan. 30 and Sept. 6, further paring its position in those securities, according to court filings.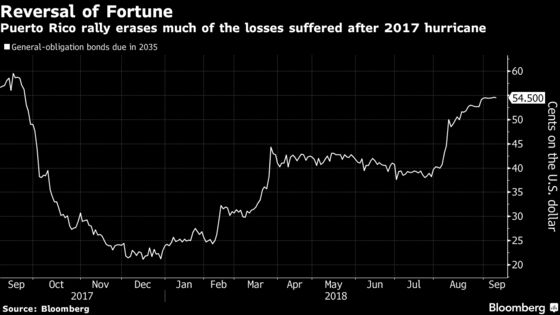 The selling came amid the biggest rally of Puerto Rico debt in at least 18 years as it made strides toward striking deals with creditors and showed signs of recovering more quickly than expected from the hurricane that battered the island a year ago. Debt sold on the island gained 26.5 percent this year through Sept. 11, the largest advance since at least 2000, according to S&P Dow Jones Indices, with some securities gaining far more.