E-Commerce Site Allegro Ranks Among Poland's Largest-Ever IPOs
(Bloomberg) -- Polish e-commerce platform Allegro plans to raise as much as 8.1 billion zloty ($2.1 billion) in an initial public offering in Warsaw that's expected to be one of the country's biggest-ever listings.
Allegro's private equity owners Cinven, Permira and Mid Europa Partners are offering more than 7 billion zloty of existing shares, while the company is selling 1 billion zloty of new stock, according to a prospectus filed Tuesday. In all, about 187.8 million shares are being marketed at 35 zloty to 43 zloty each.
Allegro is tapping the market amid a surge in technology and online retail shares, which have been buoyed by customer demand during the lockdowns caused by the coronavirus pandemic. The tech-dominated Nasdaq Composite Index has jumped 20% this year, while e-commerce giant Amazon.com Inc. has rallied 60%.
"It seems there is common opinion that Polish e-commerce has a great future, which should support interest, providing Nasdaq doesn't collapse in next two weeks," Alo Kullamaa, a fund manager at SEB Investment Management, said by email. "The question is what will happen next year when company won't have such a tailwind from lockdown and competition may increase."
If all the shares are sold at the top end of the indicative price range, Allegro's listing could surpass the country's biggest IPO to date: insurer PZU SA's 8.1 billion-zloty offering in 2010, according to data compiled by Bloomberg.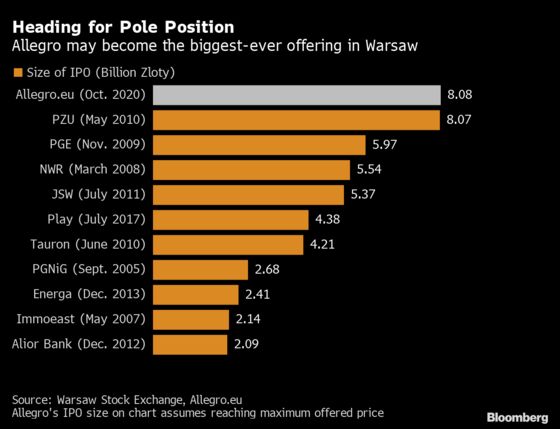 After the IPO, 18.3% of the total share capital will be available for trading. There's an additional 15% over-allotment option of existing shares, which could lift the total proceeds to 9.3 billion zloty.
Allegro is valued at as much as $11.7 billion in the IPO if it prices at the top end of the range. That means it could overtake computer games maker CD Projekt SA, which has a market value of about $10 billion, as Warsaw's biggest company. Allegro's listing is also expected to help the Polish stock market cut its reliance on old-economy industries and raise the profile of technology stocks, which are scarce on the ground across Europe.
Pricing for the offering is expected on Sept. 28 and shares are due to start trading Oct. 12. Retail investors will also be able to participate in the IPO and could be allocated as much as 5% of the deal, according to a statement.
Allegro's private equity backers bought the business from South Africa's Naspers Ltd. in 2016 for $3.25 billion.
Allegro's place at the intersection of technology and retail, coupled with the expected addition of the stock to Poland's main equity benchmark, has led some analysts to dub the IPO a "must-have" for investors.
The company is betting on the continued expansion of online shopping in Poland, a market of 38 million people and one of the European Union's most resilient economies. While Allegro's leading position in the country doesn't appear to be at risk, there is a threat of potential competition from Amazon.com.
Allegro's IPO comes as shoppers turn to online sites to buy everything from clothes to homeware, after lockdowns across Europe kept people indoors for much of the year. Britain's THG Holdings Ltd. also rode this wave, raising 1.88 billion pounds ($2.4 billion) before shooting up 25% in its public market debut last week.
For Allegro, which generates more than 80% of its revenue from fees on its marketplace, the pandemic boosted sales by 52% to 1.77 billion zloty in the first half of the year, while adjusted earnings rose 28%. Apart from the virus tailwinds, Allegro is betting on an increase in Poland's relatively low online retail market share, which was at about 8.4% in 2019, compared with 18% in the U.K. and 27% in China.
Allegro is a nice asset operating at peak market conditions and is being marketed at a full valuation, said Union Investment Privatfonds money manager Ekaterina Iliouchenko.
The Warsaw bourse is undergoing a renaissance, after several years of few to no deals. IPO hopefuls such as mobile casino app maker Huuuge Inc. and computer game studio People Can Fly Group SA filed prospectuses this month to cash in on the popularity of video games among people stuck at home. On Monday, biotech firm Captor Therapeutics joined the rush of listings.
Goldman Sachs Group Inc. and Morgan Stanley are global coordinators on Allegro's listing, while Barclays Bank Plc, Bank of America Corp., Citigroup Inc. and Dom Maklerski Banku Handlowego SA are bookrunners.
Santander Bank Polska SA and BM PKO BP are bookrunners and co-offering agents in Poland in connection with the retail tranche. Bank Polska Kasa Opieki SA, Crédit Agricole Corporate and Investment Bank, Erste Group Bank AG, Pekao Investment Banking SA and Raiffeisen Centrobank AG are co-lead managers. Lazard Ltd. is the financial adviser.