One of the World's Top 15 Fund Managers Reveals His Next Picks
(Bloomberg) -- The secret to success can sometimes mean doing more of the same.
Helsinki Capital Partners Oy, whose Focus portfolio is among the 15 best-performing equity funds globally in the first nine months of this year, has filled the fund almost to the brim with tech giants such as Amazon.com Inc., Facebook Inc. and PayPal Holdings Inc. It's now looking to catch the next flyers in that industry.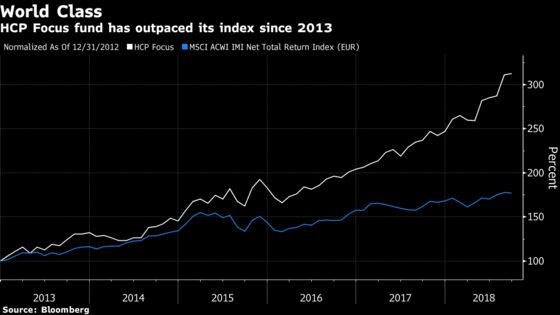 The Helsinki-based fund is considering investing in three U.S. companies that provide different types of digital platforms: Etsy Inc., Zillow Group Inc. and GrubHub Inc., portfolio manager Ernst Gronblom said in a phone interview on Oct. 9. It's also looking at buying shares in Nvidia Corp., a U.S. provider of three-dimensional graphics processors and related software.
Gronblom's portfolio consists of 12 stocks. Eleven of those are digital platforms that are either the dominant player in their sector, for example Amazon and Facebook, or companies with a decent probability of one day becoming that. The latest addition to the portfolio -- premium tonics and mixers maker Fevertree Drinks Plc -- is the odd stock out as it's a more traditional manufacturer, he said.
"I approach the investment universe neither from a geographical point of view nor an industry point of view," Gronblom said. "I prefer to use so-called investment themes -- micro-economic trends or phenomena."
HCP Focus managed about 55 million euros ($64 million) as of the end of September and has been offered to the wider public since 2012. Before that, it was run as part of a family office since 2004 and then offered to client accounts since 2009. Gronblom uses a so-called economic-value added method to assess potential investments, saying he finds it superior to the discounted cash flow method.
"It's both more elegant and intuitively clear," he said.
Gronblom said he's "very skeptical to any form of market timing" since he believes that markets are too complex to time in the short or medium term. He also doesn't hedge against market moves or currency fluctuations in order to "create pure alpha that can be measured against a benchmark," he said.
Amid the global stock-market sell off this month, the Focus fund has dropped some 10 percent during October, reducing assets under management to about 50 million euros.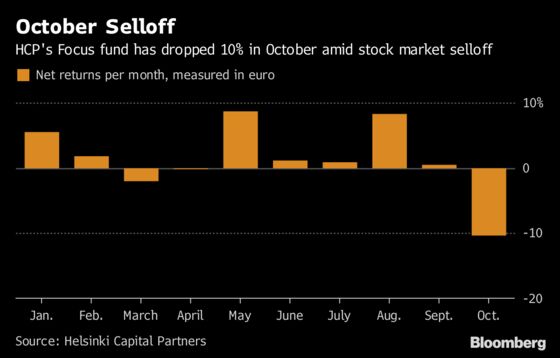 But one thing Gronblom could be protected against is a global trade war.
Gronblom said that his portfolio is likely to be more resilient since it has very little exposure to traditional manufacturing. Investments in digital companies will be much less affected than companies that move physical goods around the globe, he said.
In the past two years, most of the fund's investments have posted significant gains, led by Fevertree, LendingTree Inc., Amazon and PayPal.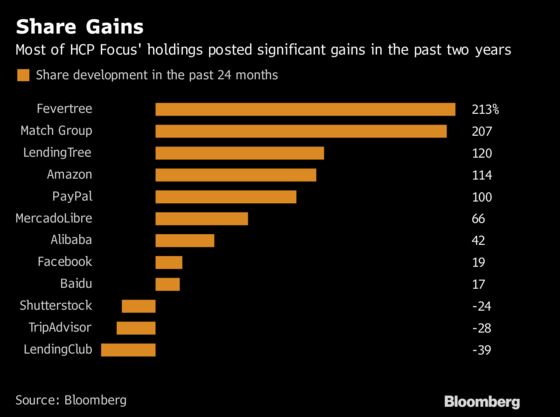 With a limited number of holdings, Gronblom's advice is now to keep cool amid growing market volatility.
"That's what get most people into trouble in investing," Gronblom said. "The panic when things get rough, and no amount of intelligence, knowledge or education helps you then."