One of Wall Street's Last Stock Bears Goes Completely Bullish
(Bloomberg) -- The U.S. equity market's torrid start to the year has converted one of its last doubters.
Wells Fargo's head of equity strategy Christopher Harvey hiked his year-end price target for the S&P 500 Index to 3,088 from 2,665, an upside of nearly 5 percent from where the benchmark gauge closed on Monday. It's the second-highest call among strategists surveyed by Bloomberg, trailing Deutsche Bank's Binky Chadha at 3,250 and well above the median estimate of 2,950.
Harvey's previous price target was the second-lowest on Wall Street, more bearish than all but Cantor Fitzgerald's Peter Cecchini.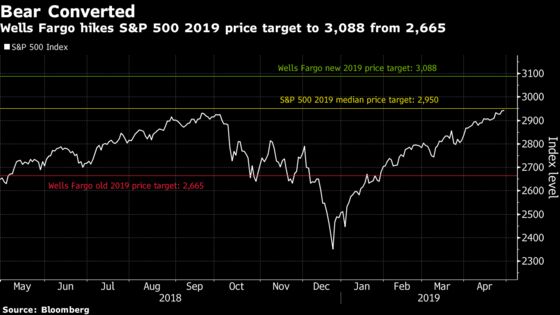 "Our more conservative price target was predicated on what we thought was a Fed mistake -- a continued desire to tighten in 2019,'' Harvey wrote in a note Tuesday.
The Federal Reserve's change in stance "will likely keep rates relatively well-behaved for the balance of the year,'' he added, while the elevated implied odds of a rate cut has the market "feeling more and more like 1995.''
Harvey said rising price-to-earnings ratios -- the sole source of support for U.S. stocks so far this year -- will continue to galvanize the bull market, and investors will be even more willing to pay up for American equities as they outperform other asset classes. His earnings per share estimate remains at $166 and is roughly in-line with analysts' bottom-up forecast for the S&P 500 in 2019. Top-down strategists are more optimistic on the outlook for profits.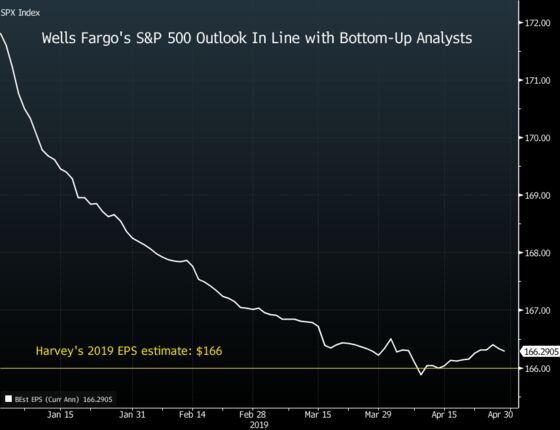 The strategist mulled raising his forecast near the end of March, but believed recession fears would weigh on stocks in the short term following the inversion of the yield curve. Tighter credit spreads and growing risk appetites also contributed to the bullish stance, according to Harvey.