Here's a Glimmer of Hope as the Emerging-Market Bond Rally Peters Out
(Bloomberg) -- As returns in emerging-market bonds stall on mounting concerns over global growth, here's one measure that could help find the most attractive among them: inflation-adjusted yields.
Brazil, Indonesia and South Africa offer the highest real yields of more than 4 percentage points, according to calculations by Bloomberg. Of 23 emerging economies included in the Bloomberg Barclays EM local-currency government bond index, 18 of them offer higher compensation for inflation risks than U.S. bonds.
The real yields are calculated by taking the average 10-year sovereign debt yield in March minus 2019 inflation estimated by economists. Inflation forecasts have declined recently after the weighted average price-growth among the 23 economies tumbled to 2.1 percent in January from 3.1 percent in September, according to calculations by Bloomberg.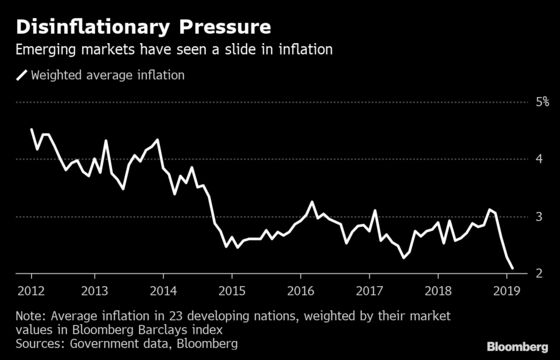 Emerging-market government debt lost 0.3 percent February after gaining 7.6 percent in the previous three months, according to the Bloomberg Barclays index, as mounting evidence of a global slowdown outweighs the benefits of a dovish Federal Reserve. Investors looking for sovereign bonds that buck the trend may want to watch real returns.
Of the 10 best performing developed-nation debt so far in 2019, eight of them also topped the list of inflation-adjusted yields. Egypt's bonds have returned 10.1 percent, followed by Russia's 9.3 percent and Mexico's 6.6 percent, according to Bloomberg Barclays indexes.
Read how emerging-market central banks are coping with low inflation, here:
"People are becoming more selective in picking emerging markets with the best prospects and that trend will continue," Takeshi Yokouchi, a senior fund manager at Daiwa SB Investments Ltd. in Tokyo, which manages the equivalent of $54 billion, said in a phone interview. "Countries like Brazil and Indonesia have better economic outlooks than their peers and higher real yields are their extra advantage."