One Investor Bets Big on Tiny Muni ETF Despite Market's Losses
(Bloomberg) -- At least one investor has high hopes for the muni bond market.
He or she purchased 650,000 shares of the Hartford Municipal Opportunities ETF worth $25.5 million earlier this week, causing the fund to see a record inflow. A week earlier, an investor bought 450,000 shares worth $17.6 million. That pushed up the fund's assets to $76.4 million.
It's notable because until October, the Hartford fund hadn't attracted any new cash, barring a $2 million inflow shortly after it launched in December 2017. And it's curious timing for a municipal-bond ETF to suddenly pull in funds: state and local debt has posted a 0.9 percent loss this year as interest rates head higher. Other big municipal-bond ETFs have seen record outflows during the market's rout this month, which has started to stabilize.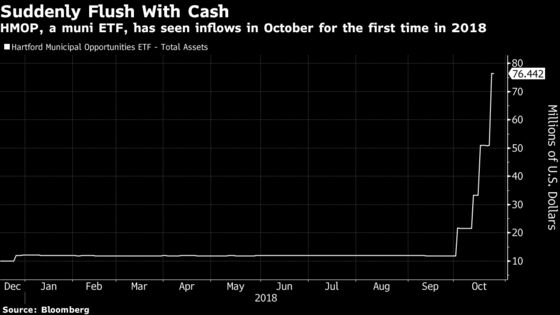 The Hartford Municipal Opportunities ETF is an actively-manged fund that invests in both investment-grade and high-yield municipals and seeks to provide a "long-term total return."
The fund's effective duration is just over five years and its top revenue bond holdings include transportation and health care credits, according to a June fact sheet. The fund, which was listed by Hartford Funds in late 2017 and is sub-advised by Wellington Management Company, is managed by Timothy Haney and Brad Libby.