One by One, London's Boom-Time Miners Are Heading for the Exit
(Bloomberg) -- KAZ Minerals Plc looks set to end its 15-year London listing after the Kazakh copper miner's biggest shareholder offered to take it private. The reason: irreconcilable differences with the market.
It's not the first to reach that conclusion.
During the commodity super cycle at the start of the century, London became the default market for many of the world's closely held mining assets, especially those in the former Soviet sphere of influence that were privatized after the end of the Cold War. Institutional money poured into the stocks at a time when commodities like copper and zinc were trading at records.
But as metals prices cooled in recent years, so did investors' interest. A growing scrutiny on corporate, environmental, social and governance issues has made shareholders more cautious of emerging-market-focused companies, and miners face renewed pressure to produce returns rather than just chasing production growth.
The move to take KAZ private echoes earlier deals at Vedanta Resources Plc and another Kazakh company, Eurasian Natural Resources Corp., which both listed during the 2000s commodity boom. While they've all left the exchange for different reasons, London investors ultimately no longer valued the companies as highly as their biggest owners did.
"The increasing ESG scrutiny from investors hasn't helped developing market resource companies," said Grant Sporre, a Bloomberg Intelligence analyst. "Many investors now see the risk-reward balance skewed to the downside, and in a sense it reflects the de-globalization sentiment at the moment."
In 2008, Vedanta, ENRC and KAZ had a combined market value approaching 40 billion pounds ($52 billion) -- that's nearly the same as Glencore Plc and Anglo American Plc combined today. They offered exposure to both emerging markets and materials that were forecast to be in short supply for years to come. Yet they also came with complicated ownership structures and operated in countries viewed as riskier for investment.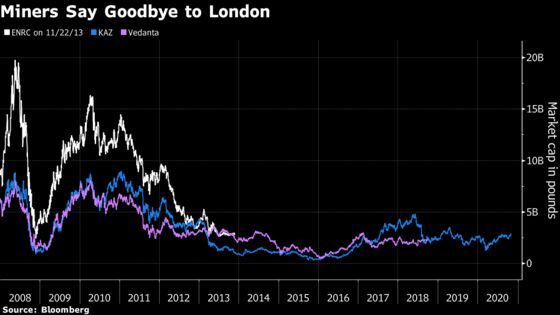 ENRC was the first to go -- its owners took the company private in 2013 after the U.K. Serious Fraud Office opened a formal investigation into allegations that it paid bribes to win business in Kazakhstan and Africa. ENRC, which is still under investigation, has denied wrongdoing.
In 2018, billionaire Anil Agarwal bought out minority investors in Vedanta Resources Plc as he looked to simplify the structure of the resources group that he wants to transform into one of the world's largest. The company's complex ownership structure, high debt and governance issues had been a concern for investors.
Finally, KAZ announced Wednesday that its biggest shareholder and chairman agreed to take the copper producer private in a $2.4 billion deal backed by the board. Other investors had objected to its ambitious growth plans after the company bought a project that could cost about $7 billion to build, potentially sucking up the miner's profits for years.
London still remains one of the world's leading financial centers for resource companies, including diversified giants BHP Group and Rio Tinto Group. However, a successful takeover of KAZ would leave Antofagasta Plc as the only major copper-focused miner on the London Stock Exchange.
"This should therefore be a modest net positive for Anto," Jefferies analyst Chris LaFemina said. "It opens the door for another copper miner that may wish to list in London."