Oil Tumbles as Concerns Shift From U.S. Hurricane to Demand
(Bloomberg) -- Oil fell to the lowest in almost two weeks as Hurricane Michael threatened to slash fuel demand across the U.S. Southeast.
Futures fell 2.4 percent in New York on Wednesday. Although Michael was the strongest storm to make U.S. landfall in a quarter century, its track spared most offshore oil platforms. Fuel demand in southeastern markets may drop by 1 million barrels a day, according to Mizuho Securities.
Meanwhile, the industry-funded American Petroleum Institute was said to report U.S. crude stockpiles rose 9.75 million barrels last week. That would be the largest build since February 2017, if Energy Information Administration data confirms it.
"The biggest factor now is what Hurricane Michael is doing to demand," said Michael Hiley, head of over-the-counter energy trading at New York-based LPS Partners.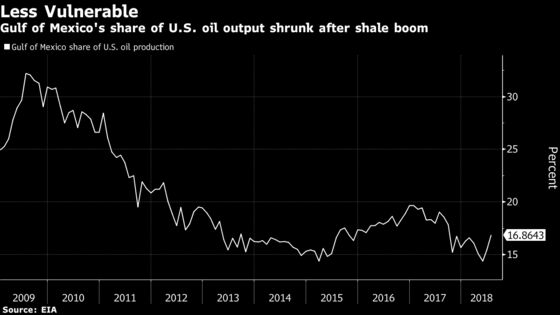 Michael curtailed offshore oil production in the Gulf by 40 percent. However, as the region's share of overall American output shrank to about 17 percent from 32 percent in 2009, weather-driven supply upsets are less disruptive to markets. Gasoline and diesel demand typically plunge in the wake of hurricanes because roads are impassable and filling stations are without power.
See Also: EIA Raises 2019 U.S. Crude-Output Forecast to 11.76M B/D
West Texas Intermediate for November delivery traded at $72.63 a barrel at 4:59 p.m. after settling at $73.17 a barrel on the New York Mercantile Exchange, the lowest closing price since Sept. 27.
Brent for December settlement fell $1.91 to close at $83.09 on the London-based ICE Futures Europe exchange. The global benchmark crude traded at a $10.06 premium to WTI for the same month.
The API was also said to report Cushing, Oklahoma crude inventories rose 2.25 million barrels last week. Gasoline stocks rose and distillates fell, the report showed.
A Bloomberg survey ahead of Thursday's scheduled release of a weekly government tally showed crude stockpiles probably increased by 2.8 million barrels. Inventories at the key storage hub in Cushing, Oklahoma, probably rose by 800,000 barrels last week, according to a forecast compiled by Bloomberg.
"We are in the time of year when inventories tend to rise," amid refinery maintenance, said Bill O'Grady, chief market strategist at Confluence Investment Management LLC in St. Louis. In the last EIA report, "run rates stayed constant, but we did see a drop-off in exports and a rise in imports and what we'll be looking for is to see something similar."
Other oil-market news:
Gasoline futures fell 5.7 cents to $2.0204 a gallon. 
A natural gas pipeline rupture in British Columbia is forcing refineries in Washington to cut output, pushing gasoline prices higher in the Pacific Northwest.
The plunge in Canadian crude prices may dent exploration budgets and shrink the nation's rig fleet, according to the chief executive officer of a major drilling contractor.