Oil Trader Trafigura Calls Bull Run Even as Rivals Cautious
(Bloomberg) -- Trading house Trafigura Group expects oil prices to move even higher as refiners boost runs to meet rising product demand amid tight physical crude stocks.
"The refiners will come for the oil," Ben Luckock, Trafigura's co-head of oil trading, said in an interview Friday. "Let's see how much is there. We're shifting significant volumes of crude oil at the moment at really quite strong numbers and we've got people coming for it everywhere."
"We need to be careful how much crude stocks we draw," he said.
It's a bullish outlook for crude and products by the world's second-biggest independent oil trader. Vitol Group, the biggest oil trading house, and smaller rival Gunvor Group are more cautious, saying oil prices above $60 a barrel may have come too far too fast on vaccine optimism. They also said the high prices could prompt a wave of shuttered oil production to flood the market.
"If we can get through March and Easter without any serious difficulties, this market is seriously going to perform," Luckock said. "Come summer, we will be through $60 a barrel for sure, the question is whether we make it to $70."
The group of producing countries, including Saudi Arabia and Russia, known as OPEC+, is comfortable with current prices being higher than forward prices -- a structure known as backwardation, Luckock said. That means it won't move quickly to restore output cuts.
"If we do rally and we are heavily backwardated at the front, OPEC won't see a need to fix that because they like that situation," said Luckock.
That's a more bullish take than Vitol, whose global head of research, Giovanni Serio, said that global oil was demand still down 6 million barrels a day from 2019. However, consumption has outstripped supply since July and the market has been working its way through the more than 1 billion surplus barrels built up last year.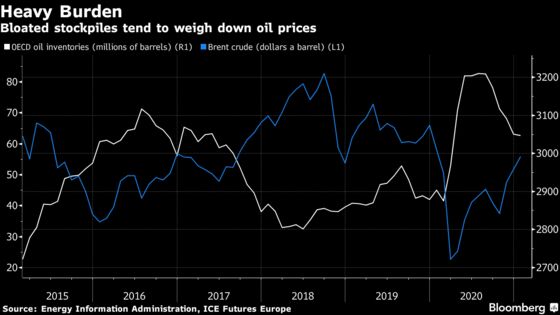 "But the improved outlook as we come into summer has impacted price," Serio said by email. "The key questions now are whether demand delivers above or below expectations and just how much U.S. production is enticed back by the higher price," he said.
Gunvor's CEO Torbjorn Tornqvist last week told Bloomberg News last week that he didn't expect oil prices to go much beyond $60 a barrel as the rising price would stimulate more supply. Vitol's Asia head of operations, Mike Muller also said markets may have got ahead of themselves.
Trafigura's global chief economist, Saad Rahim, said U.S. shale producers would need to bring on some 4.3 million barrels a day of shuttered production just to stay at current production levels because of the natural production decline of shale wells. There are only about 300 shale oil rigs in operation now compared to about 680 before the virus hit last year, he said.
Rahim said other factors stoking the bullish view include extremely strong new and used vehicle sales as well as excess savings of about $2.5 trillion, or about $8,000 for every person in the U.S.
"New vehicle owners typically drive 20% more than other drivers in the first year of vehicle ownership," he said, underlining the traders' buoyant call.