Oil Supertanker Earnings Flip From Boom to Bust as Demand Wavers
(Bloomberg) -- Just six months ago, oil supertankers experienced a windfall as the pandemic slashed demand for crude and traders raced to book vessels to store the resulting glut. Now that season of good fortune for those ships has all but vanished.
The tankers, which can haul 2 million barrels of oil across the world's oceans, are now earning just $6,103 a day on the benchmark route from the Middle East to China, Baltic Exchange data show. That's the lowest since May 2018. Back in March, they could make $250,000 a day on the same journey.
The boom-to-bust comes as the recovery in oil demand stutters and the OPEC+ alliance continues to curb output, reducing the need for tankers. At the same time, China, the world's largest crude importer, has slowed its purchases following a buying binge when oil was cheap.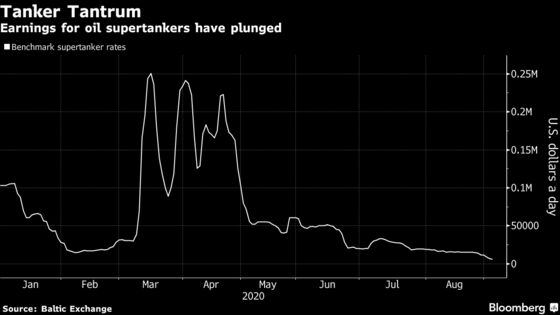 "The demand that was pushed forward is now not showing up anywhere in the market," said Peter Sand, chief shipping analyst at industry group BIMCO. "There's still a little bit of floating storage around, and that storage is easing mostly," weighing on rates, he said.
To help improve rates in the short-term, vessels can slow down in order to limit availability. Renewed interest from traders to store oil at sea on a temporary basis could also provide a boost. Shipowners usually prefer the former when rates are low so that they can capitalize on any future improvement in earnings.
For now though, the outlook doesn't look much better. More ships are starting to come available as congestion begins to ease at China's ports following the buying spree earlier in the year, Clarksons Platou analysts including Frode Moerkedal wrote in a report this week.
"The return of vessels from floating storage and reduced port congestion is putting pressure on rates," the analysts said. "We expect an improvement of crude oil trade will have to wait until oil stock levels have come down before OPEC+ opens its tap."