Super Carry Goes Ballistic as Oil Price Is Atrocious
(Bloomberg) -- An oil collapse for the history books has turbocharged a normally dull quantitative strategy to records.
An investing style known as commodity curve carry -- betting on longer-dated futures and against shorter-dated contracts -- has jumped to its highest since at least 2004 after eight straight weeks of unusually sharp gains, according to a Macquarie Group Ltd. index.
Monday's unprecedented collapse in the West Texas Intermediate contract for May delivery exacerbated a state known as "contango," where longer-dated futures trade at higher prices than near-term counterparts.
The steepest slope in history fed right into the strategy's sweet spot, as the front-end contract plunged thanks to vanishing storage capacity and the pandemic-induced demand shock.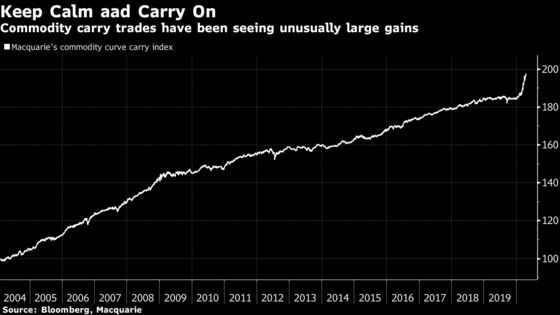 "There's a surplus of oil, which puts pressure on the physical price of oil and drives the curve into this super contango shape," said Arun Assumall, global head of cross-asset quantitative investment strategies at Macquarie, which offers the trade to institutional clients.
Covering most commodities, the Macquarie index shorts the front-end contract and goes long on a later-dated one, with seasonal adjustments. In all of its 16-year history, its wildest monthly move was about 2% -- posted in the early 2000s. In March alone, it jumped 4%.
Betting on the shape of the commodities curve, once the domain of traditional commodity funds, has grown more popular among multi-asset and risk-premia investors in recent years in the hunt for yield.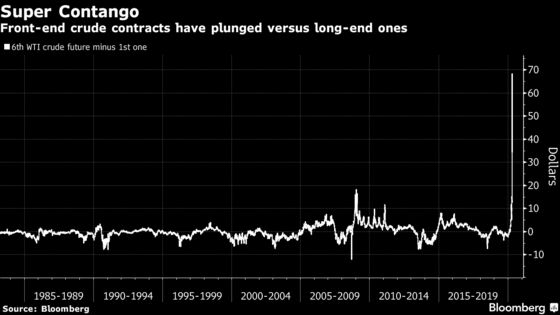 The oil mayhem is lifting a slew of other rules-based allocation styles.
Intraday momentum strategies in commodities, which bet on price trends continuing throughout the trading day, are seizing on the wild swings to post historic returns. A Macquarie index tracking the trade in WTI is up 19% this year. Last quarter was the best ever in its 15-year history.
Risk-premia strategies -- trades like volatility and carry beloved by hedge funds that take advantage of established price patterns -- largely plunged in last month's unprecedented cross-asset turmoil. But commodity carry is proving a boon for investors like Olivier Blin at Unigestion.
"It is quite an exceptional gain indeed," the fund manager said. "However, like all carry strategies it is exposed to tail risk."